Date/Time
Date - Jan 19, 2023
7:30 pm EST - 8:30 pm EST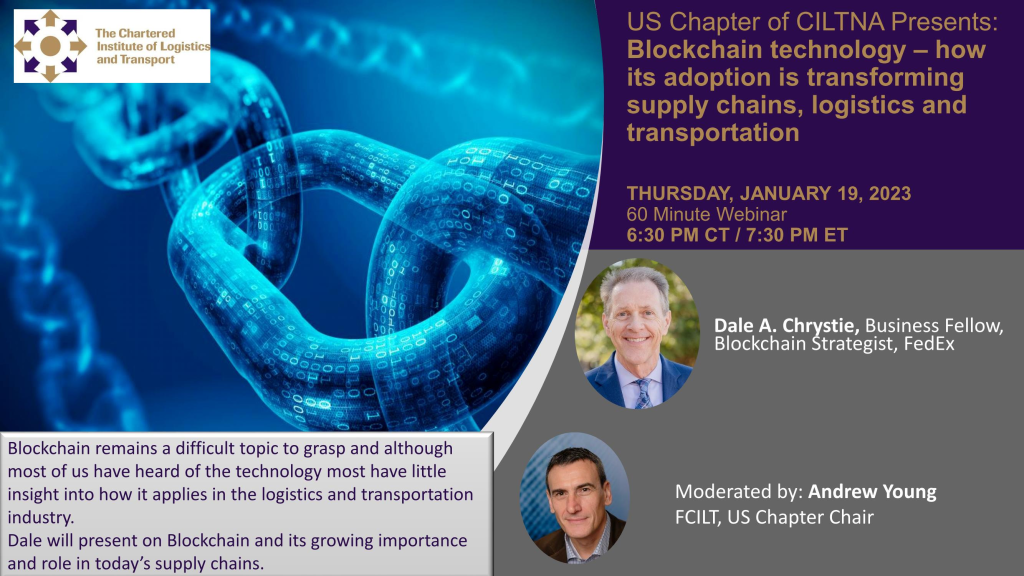 Please join the US Chapter on Thursday, January 19th at 6.30 CT/7.30 ET for their first Chapter Forum of 2023.
Dale Chrystie is a globally renowned expert in this field, he is a business fellow and blockchain strategist for FedEx, based at their worldwide headquarters in Memphis. Dale has been involved with Blockchain since 2017 and presents at conferences around the world on its role in transforming supply chains and logistics. As FedEx founder and Chairman Fred Smith announced back in 2018, "Blockchain has big implications in supply chain, transportation and logistics. It's the next frontier that's going to completely change worldwide supply chains."
Blockchain remains a difficult topic to grasp and although most of us have heard of the technology most have little insight into how it applies in the logistics and transportation industry.
Dale will present on Blockchain and its growing importance and role in today's supply chains and answer questions.
This CILT Member Event is also open for non-members without charge. Please register below…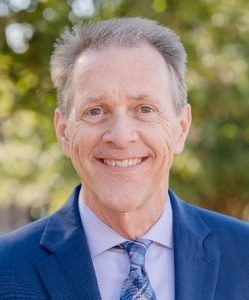 Dale A. Chrystie
Business Fellow
Blockchain Strategist
Chairman, BiTA Standards Council
Dale Chrystie is business fellow and blockchain strategist for FedEx, based in the Memphis area. He also serves as chairman of the BITA Standards Council, is a member of the Blockchain Research Institute in Toronto, and is also an Executive Advisory Board member of the University of Arkansas Blockchain Center of Excellence. In 2019, he was awarded the inaugural Enterprise Blockchain Award in Enterprise & Industry Leadership.  In 2022, at the Web 3 & Blockchain World event he was awarded the Blockchain Leadership Award – Advocacy & Education, and he is a global thought leader on the business and strategy aspects of Web3, blockchain, and emerging technologies. His focus on 'coopetition' in the blockchain space continues to challenge conventional wisdom and typical corporate and regulatory culture, and his perspective in that space is well documented in academic and other publications.  Dale's career in transportation began more than 30 years ago, and in addition to his work leading the first proof of concept at FedEx using blockchain technology in 2017, he has extensive experience in strategy, quality, process improvement, and standards development, and is a proud graduate of the University of Arkansas.
Map Unavailable
Bookings
Bookings are closed for this event.