Date/Time
Date - Dec 15, 2022
7:30 pm EST - 8:30 pm EST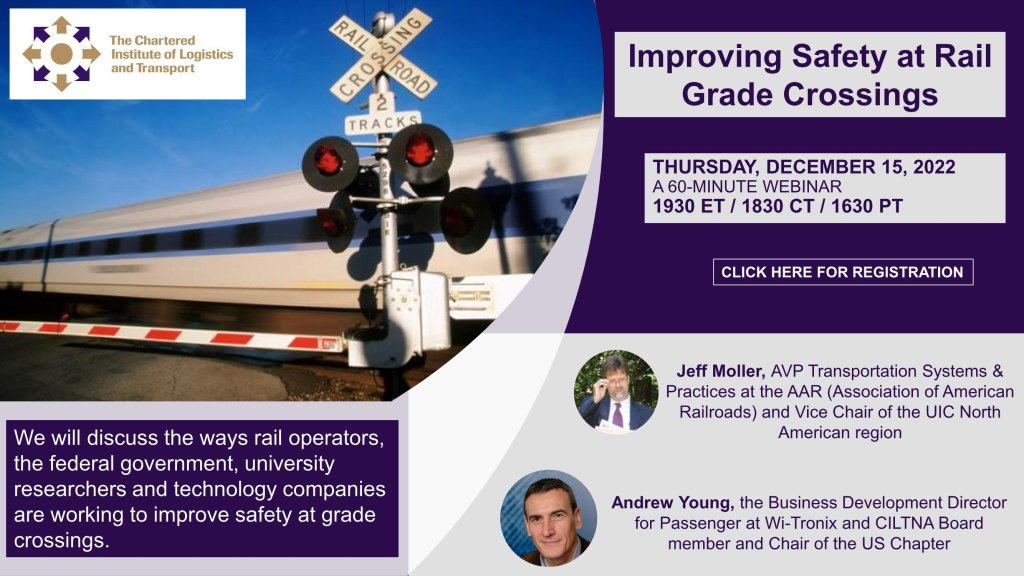 Please mark your calendars for our final Chapter Forum of 2022 on Thursday December 15th at 7.30 ET/6.30 CT. We are returning to the rail industry with a look at the ways rail operators, the federal government, university researchers and technology companies are working to improve safety at grade crossings.
This point of physical intersection of rail with road brings trains, cars, trucks, cyclists and pedestrians together. Maintaining safe 'grade separation' is crucial to avoid accidents. Despite significant progress over the years in reducing fatal incidents there was still 234 fatalities at grade crossings last year in the USA.  Jeff Moller and Andrew Young will look at some of the causes of grade crossing incidents and talk about the latest thinking, from policy to technology adoption, to improve the safety at the nation's 200,000 grade crossings.
Jeff Moller is AVP Transportation Systems & Practices at the AAR (Association of American Railroads) and Vice Chair of the UIC North American region. Andrew Young is the Business Development Director for Passenger at Wi-Tronix and CILTNA Board member and Chair of the US Chapter.
If you have friends or colleagues interested in attending this forum talk, we are opening it to non-members this month if they are interested in this topic and would like an insight into the kinds of informative events staged by CILT in North America. Register below or email: USChapter@ciltna.com to book your spot for this webinar.
Map Unavailable
Bookings
Bookings are closed for this event.