Date/Time
Date - Feb 6, 2023
11:00 am EST - 12:00 pm EST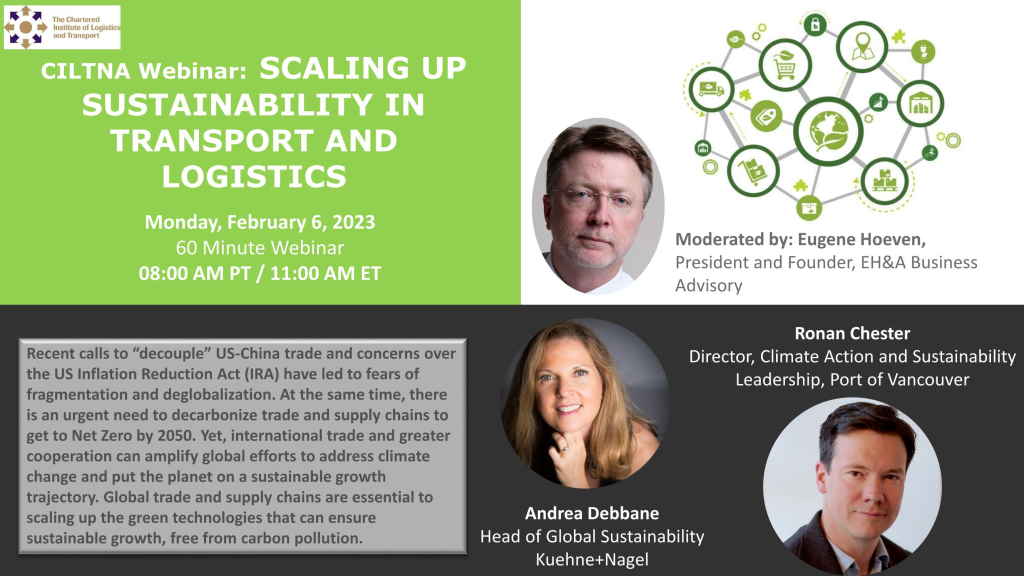 Join us on Monday, February 6 at 8:00 AM PT/ 11:00 AM ET/ 4:00 PM UTC for a CILTNA Webinar: "Scaling Up Sustainability in Transport and Logistics".
Recent calls to "decouple" US-China trade and concerns over the US Inflation Reduction Act (IRA) have led to fears of fragmentation and deglobalization. At the same time, there is an urgent need to decarbonize trade and supply chains to get to Net Zero by 2050. Yet, international trade and greater cooperation can amplify global efforts to address climate change and put the planet on a sustainable growth trajectory. Global trade and supply chains are essential to scaling up the green technologies that can ensure sustainable growth, free from carbon pollution.
While there are many obstacles to the energy transition needed to decarbonize our transport systems and supply chains, it is recognized that urgent collective action and leadership is required at all levels – both in business and government. To explore the issues, join us for this next CILTNA webinar in a series on Sustainability and ESG in Transport & Logistics.
Moderated by:

Eugene Hoeven, President and Founder, EH&A Business Advisory
About the Speakers:

Andrea Debbane, Head of Global Sustainability, Kuehn+Nagel
Andrea Debbané is a senior executive with extensive international experience and leadership in sustainability, strategy, customer solutions, marketing, and communications. She is SVP and Global Head of Sustainability at Kuehne+Nagel.  She is also a Board member of Fairtrade International. Andrea has 17 years of experience in aerospace and aviation, having served as Head of Responsibility & Sustainability at Airbus working with the aviation sector, customers, suppliers and  governments on the decarbonization of the sector. She joined Airbus to work on the marketing and communications of the A380, the world's largest aircraft and industrial program. She established and served as Executive Director of the Airbus Foundation, supporting the humanitarian community with emergency response services as well as working with NGOs, start-ups and social entrepreneurs to support the development and education of young people worldwide. She served on the Board of the United Way France for several years. Before joining Airbus, Andrea worked for the Coca-Cola Company in Japan and Asia in strategy and marketing for ten years and started her career with the Canadian Federal Government in Ottawa, Canada in technology policy.
Andrea has a BA from Concordia/McGill University in Montreal, Canada, an MBA from IMD, Lausanne, Switzerland and was a Monbusho scholar at Waseda University in Tokyo, Japan. Andrea has triple nationality: Canadian, British and Belgian and currently resides in Zurich, Switzerland. She is a native English speaker, fluent in French and conversational Japanese.

Ronan Chester, Director, Climate Action and Sustainability Leadership, Vancouver Fraser Port Authority
Ronan Chester is Director, Climate Action and Sustainability Leadership, with the Vancouver Fraser Port Authority (dba Port of Vancouver), responsible for leading a portfolio of initiatives and programs to help advance the port authority's vision for the Port of Vancouver to be the world's most sustainable port.
As an experienced project management professional with a background in sustainable buildings, Ronan has 20 years experience working in the field of sustainability. He works collaboratively, and enjoys leading teams to develop innovative solutions to sustainability challenges, and to deliver these solutions as successful projects and programs that create lasting value.
Ronan is a Project Management Professional (PMP), Certified Energy Manager (CEM), Leadership in Energy and Environmental Design Accredited Professional (LEED AP), and Envision Infrastructure Sustainability Professional (ENV SP). Ronan holds an undergraduate degree in economics and environmental studies, and a master's degree in sustainability.
Scroll down to register.
Map Unavailable
Bookings
Bookings are closed for this event.