Date/Time
Date - Nov 28, 2022
4:30 pm PST - 7:00 pm PST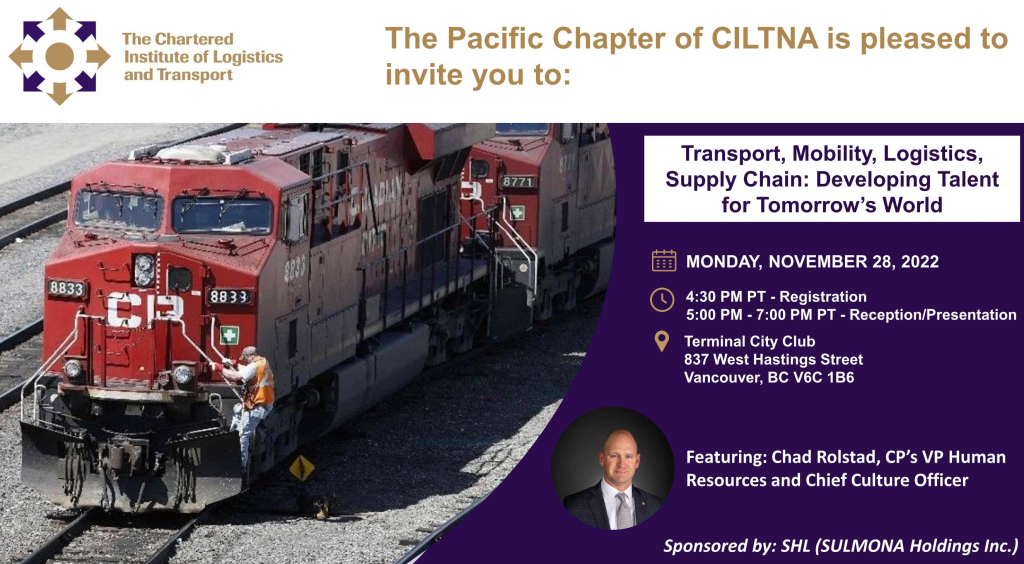 The Pacific Chapter (CILTNA) is pleased to invite you to an in-person reception/presentation featuring Mr. Chad Rolstad, CP's VP Human Resources and Chief Culture Officer.
Theme: "Transport, Mobility, Logistics, Supply Chain: Developing Talent for Tomorrow's World."
When:
Monday, November 28, 2022
4:30 pm PT – Registration
5:00 pm to 7:00 pm PT – Reception/Presentation
Where:
Terminal City Club
837 West Hastings Street
Vancouver, BC V6C 1B6
Cost:
CILTNA Members: $20.00
Non-Members: $25.00
Students: Free
Sponsored by: SHL (SULMONA Holdings Inc.)
SHL will announce a permanent endowed Award at UBC in mobility studies…exciting details to follow at our event.
SCROLL DOWN TO REGISTER
Location
Terminal City Club
Bookings
Bookings are closed for this event.