CILTNA
Presentations of General Interest
Drone Technology & UTM New Technologies and Innovation in Transport & Logistics
Citizen's Guide to Tanker Safety & Spill Response on British Columbia's South Coast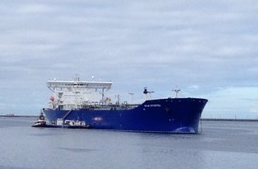 Resource Works has produced the "Citizen's Guide to Tanker Safety & Spill Response on the British Columbia South Coast" is a work for the serious, engaged individual. It will also appeal to those in the role of explainer of complex public policy, and who are in need of authoritative, accessible, reference materials. However, they have also endeavoured to make it as accessible as possible by using jargon-free language and infographics. The document provide extensive citations and links to other, validated information sources.
Resource Work's intention was to collect together, into one place, this authenticated and definitive inventory of the information relevant to maritime safety in connection with the Trans Mountain Pipeline Expansion Project (TMEP), along with some other contextual information that we concluded would be helpful for understanding the project.
As a public issue, TMEP has demanded the utmost dedication to ensuring ongoing transparency and accessibility for the public. This guide is organized to facilitate understanding of what can be a thicket of operational, technical and legal frameworks, sometimes appearing to overlap. The authors have identified an inclusive framework divided into four topic areas:
● Regulation
● Risk
● Response
● Social and Economic Returns
Recently our Pacific Chapter was invited to review and comment on the document.  Marian Robson, Chair, Pacific Chapter nominated four members of our Executive, with particular expertise in marine matters, to undertake this task. Just a word about each member…
● George Adams is a retired senior shipping executive and former member of the Board of the Vancouver Fraser Port Authority, who closely follows marine issues;
● Darryl Anderson, Wave Point Consulting, Victoria has done a great deal of policy work and writing on marine issues and in particular, tanker traffic;
● Bonnie Gee, Vice President, Chamber of Shipping of BC and directly involved day to day in tanker movements on the BC coastline; and
● Paul Levelton, who heads up the Infrastructure Practice at KPMG and has had international experience in port/marine projects.
This group has reviewed the draft document and has found it to be both factual and credible.
Marian Robson, FCILT
Chair, Pacific Chapter
Chartered Institute of Logistics and Transport
North America
The Rewards and Risks of Western Resource Trade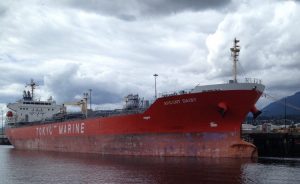 Western Canada ships huge volumes of coal, grains, sulphur, potash, forest products and some oil through British Columbia's coast. Overseas markets are demanding expansion. Extracting, processing, moving and handling these resources creates profits, tax revenues and jobs but also involves costs and risks. Some people point to the hazards and unsustainable aspects of these activities from local and global perspectives.  Some residents, municipalities and First Nations around ports and near road, rail and pipeline corridors express concern over more industrial activity, including the potential for dangerous commodity spills.
Debate on the risks and rewards of western resource trade has grown in recent years, with interest groups on all sides seeking to shape public opinion. Underlying this are difficult questions about society's decision-making process. Are there enough agreed facts for a true debate? How can widely divergent views on development, including for energy products, be reconciled? Is a hard collision of interests and values unavoidable and if so what will be its fall-out. How can Canadian society find an optimum policy, choosing what rewards to pursue, and what risks are acceptable?
The conference brought together those representing a range of interests and viewpoints. CILTNA members from the transportation and logistics industry, consultants and academics, and our many student members were joined by invited guests from the media, First Nations, all orders of government, and NGO's advocating greater environmental protection and conservation.
With CILTNA as a non-partisan forum, speakers reviewed the current state of resource development debate. They aim to educate and inform each other and to move towards a meeting of the minds on how to answer the difficult questions.
Download The Rewards and Risks of Western Resource Trade: Towards a Meeting of Minds.
Is Privatization of Our National Ports and Airports in Canadians' Best Interest?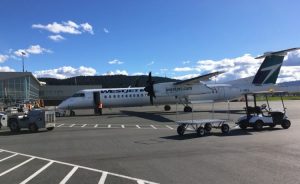 Today our large seaports and airports have two important similarities: how they are financed, and who controls them:
You cannot buy a share in them—because both sea and airports are structured without shares: and
The people on their boards of directors are nominated by stakeholder groups—not elected by shareholders.
The Buzz About Privatization Now
The buzz began a year ago when the government published the Canada Transportation Act review chaired by the Honourable David Emerson. It moots changes in both finance and control.  On seaports, Dr. Emerson recommends the government should "examine the feasibility of adopting a share capital structure for ports, including receiving proposals from institutional investors or private equity investors". And he suggests new regulation of port changes by the Canada  Transportation Agency, with a light touch. On airports, Dr. Emerson goes beyond "examining feasibility"  to say "just do it". He calls explicitly for privatization of the large airports (within three years — that is two years from now) so that they can tap into equity financing from large institutional investors. And there is a related recommendation to scrap onerous lease payments by airports to Ottawa. Where would the money raised by selling shares go? To build new infrastructure in those same ports and airports? Or into the treasury? Or somewhere else? The buzz got louder when the government spoke of a Canada Infrastructure Bank and the notion of cycling of infrastructure assets. Does this mean selling one asset to buy or build another elsewhere?
Acknowledgment and Thanks to Cargo Logistics Canada
The Institute acknowledges the 4th Cargo Logistics Expo and Conference for the opportunity to present as session T07 of its conference to address the topic of airport and port privatization.  Specific thanks are extended to Mr. Peter Hurme, Show Director and Editor, Global Exhibition.
Our thanks are also offered to keynote guest speakers Dr. Michael Tretheway, Chief Economist and Chief Strategy Officer with the InterVISTAS Consulting Group and  Mr. Brad  Eshleman, President Western Stevedoring.
Proceedings for Session Entitled Is Privatization of Our National Ports and Airports in Canadians' Best Interest?
Railway & Port Capacity to Capture our Resource Export Opportunities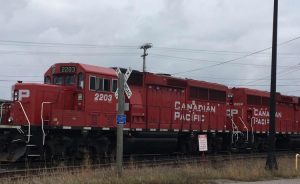 The Chartered Institute of Logistics & Transport – North America is an important organization which fosters key discussions and dialogue around the world. At a time when economies, businesses and governments alike are under tremendous pressure to perform, and given the rapid growth of global trade, the necessity of having an effective and efficient logistics and transportation supply chain is more critical now than ever before.
Increased trade and commerce between international partners are a key priority for most national governments including Canada's. The ability to fully enable this growth is dependent on the vitality and efficiency of our key trade routes and the systems that support them. We have new and exciting opportunities in front of us. If industry fails to partner on developing a truly efficient supply chain network, this opportunity for the Canadian economy will be missed. As such, the discussions being led and facilitated by CILT are of real significance to informing the understanding of industry, government, and academia related to building the best possible logistics and transportation supply chain.
Roger Larson, President of the Canadian Fertilizer Institute  made the following three points during a keynote luncheon speech:
The winter's backlog of grain and other rail shipments does not represent a blip. Canada's commodity export pipeline is hitting the limits of capacity.
Canada stands ready to reap economic benefits from massive investments in key commodity industries and from the new wave of free trade agreements being signed by the federal government, but only if our commodity export pipeline is up to the task.
Only a strategic partnership of governments, ports, railways, labour and shippers can ensure that Canada's place as an export powerhouse will be realized.
 Download the Railway and Port Capacity to Capture our Resource Export Opportunities Proceedings
At the Heart of Global Supply Chains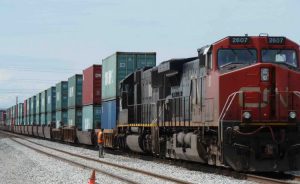 JJ Ruest, Executive Vice President, and Chief Marketing Officer for CN Rail delivered a keynote speech to the Chartered Institute of Logistics and Transport, Pacific Chapter on April 24, 2014.
Preserving Industrial Lands to Meet Port Traffic Growth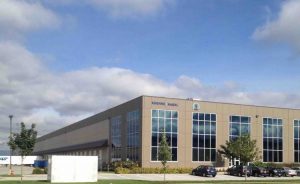 Metro Vancouver's supply of vacant industrial lands is declining rapidly. The industrial land shortage has already limited regional economic growth for some important logistics sectors that serve container traffic flowing through the Port. There have been significant lost economic opportunities associated with logistics firms reacting to the land shortage by locating a larger share of their facilities at inland locations, particularly Calgary.
Over the last fifteen years, the dominant trend in the North American logistics sector has been a dramatic growth in warehouse sizes and efficiency to take advantage of economies of scale. Fifteen years ago, a 400,000 square foot building was considered large. New buildings are now often over 1 million square feet in size. These large buildings require large flat sites, near major highways, to accommodate the volume of truck traffic required to service them, and to accommodate short term storage of trailers.
The Lower Mainland has lagged in this trend and has had no distribution centre facility larger than 650,000 square feet constructed since 1982. There is very strong current and future demand for well-located industrial sites which have been filled, serviced, zoned, and are ready to build, either for speculative construction to serve the mature core transload market, or to attract companies on the leading edge of supply chain practices. Retaining and developing an expanded industrial land base would help satisfy both local and regional demand and keep the many economic benefits associated with logistics in B.C. rather than outside the province.
In fact, land availability drives the absorption rate for industrial property in the Lower Mainland. With international trade and the Port being one of the strongest drivers of the economy the availability of suitable land for logistics purposes exacerbates a very tight supply of land that is available to support business growth. As a result, the Vancouver region has also lost business to Alberta over the years because of the lack of availability and not just firms in the logistics sector.
On the North American West Coast, imports from Asia have been the primary driver for growth in the logistics sector. This has led to the development of a sophisticated network of transportation services and distribution centres to facilitate the delivery of imported goods from West Coast ports to major inland markets. This analysis has determined that in the Lower Mainland the logistics industry serving the Port has focused primarily on import transload facilities, which transfer cargo from international to domestic containers to efficiently move it to inland locations for further processing. Capital investments in the broader range of distribution services for imports – and in major warehouse facilities – have taken place inland. The restricted availability and high prices of market-ready industrial land have created a very competitive value proposition for Calgary as the preferred location for large-scale warehouse and distribution facilities, where value added activities are performed in Western Canada. The rate of recent logistics sector growth in Alberta has significantly outpaced B.C.'s.
Port users have indicated that an ample supply of vacant industrial land is critical to building and expanding their facilities and for allowing them to add increasingly sophisticated logistics services demanded by the market. Without an expanded, full-service logistics industry to complement the port and respond to anticipated growth in trade through the West Coast, customers may be increasingly attracted to larger ports with a wider variety of services available such as the Ports of Los Angeles and Long Beach. If current trends continue the Lower Mainland region may not only lose some of the employment benefits associated with current value-added logistic activities, but existing firms may be unable to expand their facilities to remain competitive with competing gateways.  Suitable industrial sites will be required to enable firms to develop facilities of sufficient scale and scope in the range of logistics services required by emerging customer needs.
Download Preserving Industrial Lands to Meet Traffic Growth in the Port of Vancouver.