Engaged in various fields, Mr. Gilles B. Legault devotes himself to the community by wanting to give back to the community. A lawyer for Canadian National (CN) since 2000, he has been involved with the Leukemia and Lymphoma Society of Canada (LLSC) for 10 years, where he served as Chair of the Board from 2012 to 2016. For the past two years He is a member of the Board of Directors of Pro Bono Québec. Mr. Legault is also Vice-Chair of the Board of Directors of Collège Jean de la Mennais de La Prairie and has been involved on several other committees, boards of directors and professional organizations during his career.
It was for his contribution to the community through these various organizations that the Canadian Bar Association, Quebec Division, presented him with the Rajpattie-Persaud Pro Bono Award at the Presidential Dinner on May 28, 2018. Member of the Bar since 1986, Mr. Legault has been a member of the CBA since 1998.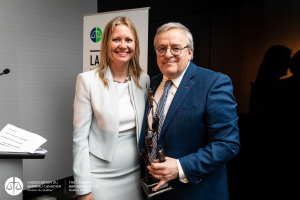 Mr. Legault is involved in particular to allow causes that have become "his causes" to progress https://brasil-libido.com/viagra-generico-no-brasil/. According to him, it is within an organization working with other volunteers and staff that we realize the impact we can have in our society and how important it is to get involved. "I like to contribute and help [my] fellow citizens in different areas and aspects of their lives," he says. Although it is important to have a mix of talents within a team, Mr. Legault believes that his expertise as a lawyer can advance the organizations for which he is involved.
In addition, the cause of leukemia affected him personally since a member of his family had died some time before he joined the Society.
When he gives his time, Mr. Legault sets goals to advance the cause for which he works. While he was president of SLLC in 2012, his mission was to double the amount of research donations. "It was important to me because it is directly through research that progress is made," he says proudly of accomplishing this. Today, Mr. Legault is still involved with the SLLC, notably in the Montreal Leadership Committee, where he organizes the Light the Night Walk.
For the past two years at Pro Bono Québec as a director of the legal organization, he has chaired this year, the organizing committee of the Grands Vins Grands Noms evening. "When I was asked, I gave myself the mandate to go for more funding," he says. His efforts and those of the entire team will have borne fruit since the 2018 edition of this event was "a resounding success".
Before joining Pro Bono Quebec, Mr. Legault was involved with the cause of the newcomers following the "humanitarian crisis" of Syrian refugees in 2016 by allowing thanks to the financial support of CN the development of a training and support project. From this was born a service of information sessions offered in aid and reception agencies, in all regions of Quebec, to meet the legal concerns of newcomers. "At Pro Bono Québec, [we are present for our] fellow citizens who are having a hard time helping them with legal issues. When we are dealing with a particular situation, legal issues can go beyond us. That's where we can intervene, "says Legault.
Although he does not get involved for recognition, Legault is pleased to receive the Rajpattie-Persaud Pro Bono Award. "I am proud of my organizations, their volunteers and their employees. It's a reward for all the groups I've worked for and still work for, "he says.
Moreover, he says he is touched that ABC-Québec is giving him this recognition. "That this has been given to me by my peers," says the winner, "particularly touches me. This is a special price especially when you consider those who received it before me!" He also says he is proud to be among the first "corporate lawyers" to receive the award. "I hope it will encourage other corporate lawyers to get involved," he said.
Today, he is CN Senior Legal Counsel, and participates in the CN Railroaders Community Program. "This is an additional motivation when your employer is understanding and values the involvement," says Mr. Legault who is lucky to be part of a company that has the value of mutual aid. "For those who want to get involved in their community," he says, "it can give them the energy to jump in if they know it's part of their employer's values. Recognitions such as that of the ABC-Quebec also allow, according to him, to inspire other jurists to follow suit and help society to become better.
The ABC-Québec congratulates Mr. Gilles B. Legault for this widely deserved recognition since it corresponds in all respects to the soul of this award named in honor of the late Mr. Rajpattie Persaud, who was a lawyer very committed to his community.
Click to read the full article: https://www.abcqc.qc.ca/Publications-Resources/Articles/2018/Diner-presidentiel-2018/Faire-d'une-cause-sa-propre-cause