CILTNA
Publications of Interest
Railroader: The Unfiltered Genius and Controversy of Four-Time CEO Hunter Harrison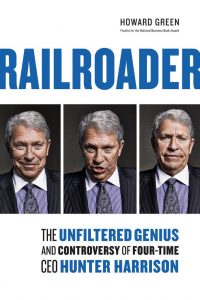 Railroader traces the story of Hunter Harrison, President and CEO of CN, then of CP, and finally CSX.  A flinty genius who revolutionized railway operations in North America, Harrison brought the art and science of "lean production" from its origins in the manufacturing world into railroading, but the transformation he wrought had costs.  Many of CN's customers were not ready for the impact on them and their supply chains, and the arising conflict led to major shifts in Canadian federal regulatory policy as well as amendments made in 2013 and 2014 to the Canada Transportation Act that were designed specifically to curtail what shippers perceived to be abuse of railway market power.  Even with further changes to the Act in 2018, the dust still has not fully settled on this chapter of Canadian transportation history.  Harrison may have departed—he passed away in 2017—but his legacy remains.
"A riveting, up-close profile of one of the most successful and controversial CEOs of the modern era.  Railroader is a master class in sharp-elbowed management in a fabled industry.  Part hard ass, part mentor, part preacher, Hunter Harrison goes from one railroad to another to another to another, turning them all around and creating conflict everywhere he went.  You won't be able to put this book down."—Ali Velshi, Anchor, MSNBC and Business Correspondent, NBC News.
Read the book review in Canadian Shipper magazine:  https://www.canadianshipper.com/transportation-and-logistics/1003379198/1003379198/
Canadian Multimodal Transport Policy and Governance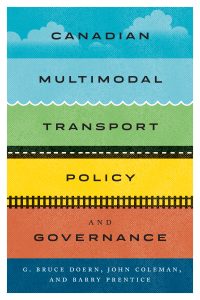 Written by Bruce Doern, distinguished research professor at Carleton University, whose many other works include How Ottawa Spends which he edited for more than ten years, by John Coleman, senior fellow at Carleton's School of Public Policy and Administration and member of CILTNA's national board and chair of its national education committee, and by Barry Prentice, professor of supply chain management at the University of Manitoba, the new book describes and analyzes transportation policy and its evolution over the past 50 years—under six prime ministers, across all modes, at the national and municipal levels, and through a variety of lenses including public policy, economics, politics, engineering, trade, and technology.
A broad history of transportation policy in Canada that fills a gap in the existing literature, Canadian Multimodal Transport Policy and Governance concludes at a macro level that transportation has been subordinate to other federal goals and priorities, delaying and eroding transport systems into the twenty-first century.
Policy advisors, analysts, practitioners, thought-leaders, and students will find it a stimulating resource that presents useful tools for analysis and shines new light on many intractable old issues and emerging new ones alike.
More information about the book, its authors, and ordering information can be found at the publisher's website:  https://www.mqup.ca/canadian-multimodal-transport-policy-and-governance-products-9780773556690.php?page_id=46&
Sustainable Development, International Aviation, and Treaty Implementation, a new collection of essays published by Cambridge University Press and co-edited by Professor Armand de Mestral, Dr. Paul Fitzgerald, and Dr. Tanveer Ahmad.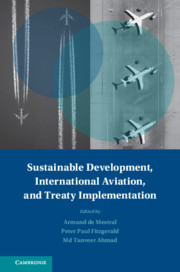 This publication arrives at a moment when the environmental impact of international air transport and the regulation of aviation emissions has been high on the agenda of the policy-makers at the International Civil Aviation Organization and among States across the globe. The chapters, penned by prominent practitioners and academics in the field, explore a range of legal and policy considerations in the promotion and implementation of sustainable development in the aviation industry.
With a comprehensive analysis of the impact of regional and multilateral modes of aviation governance, the book examines the complex relationship between aviation and sustainable development from legal, policy, technical, economic and global perspectives. The collective insight and unique perspectives of aviation law and policy experts from around the world makes Sustainable Development, International Aviation, and Treaty Implementation an indispensable resource for anyone who is keen to understand the issues and challenges confronting the sustainable future growth of aviation, an industry that is fundamental to the life and connectivity of our modern economies and societies.
For more information on this book (online ISBN: 9781316594216), visit Cambridge University Press