With this milestone, the Vancouver Fraser Port Authority (VFPA) continues to partner with industry and government to deliver the sustainable infrastructure needed to support growing trade and stronger national supply chains.
The expansion project – delivered in partnership with terminal operator DP World – focused on innovative ways to make best use of the limited trade-enabling industrial land available and allow Centerm to handle 60% more containers by increasing the terminal footprint by 15%.
"We're incredibly proud of our work leading this award-winning terminal expansion, which adds to our proven track record of delivering top-tier sustainable infrastructure to support Canada's growing trade," said Cliff Stewart, vice president of infrastructure at the port authority, the federal agency mandated to enable Canada's trade through the Port of Vancouver.
While construction of the terminal improvements is complete, work is ongoing to optimize operations to deliver the full capacity increase at Centerm.
The full capacity gains are expected to be realized later this year, increasing the terminal's container handling capacity by two-thirds from 900,000 20-foot equivalent unit containers (TEUs) to 1.5 million TEUs.
"The completion of the Centerm Expansion Project marks a new chapter in the 100-year history of our DP World operations in Vancouver," said Maksim Mihic, chief executive and general manager, DP World (Canada) Inc.
With Canada's container trade on a long-term growth trajectory, the Centerm terminal expansion will play an important role meeting demand in the short-term, said VFPA.
                                                                     2018 Prior to Construction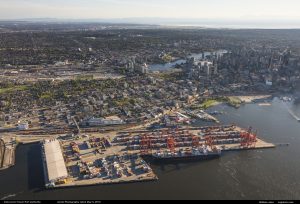 2022/23 Completion of Construction