Air Cargo Priorities: Trade, Global Standards and Modernization
The International Air Transport Association (IATA) called on governments and the air cargo industry to focus on three priorities to accommodate the expanding demand for air cargo and ensure the economic and social benefits of aviation can be maximized. The three priorities are: 1)Accelerating the speed of process modernization; 2) Implementing and enforcing global standards, and 3) Keeping borders open to trade. The call came during the opening address by Alexandre de Juniac, IATA's Director General and CEO, at the 13th World Cargo Symposium.  (March 12, 2019, www.iata.org)
China halts canola shipments from major Canadian supplier
https://www.cbc.ca/news/business/canola-china-export-1.5043182
A major Canadian canola exporter has had its registration to ship canola seeds to China revoked, the latest flare-up in a diplomatic and trade dispute between the two countries.
A Chinese customs document dated March 1 says the country has cancelled Winnipeg-based agricultural handler Richardson International's registration. That means the company is forbidden to export canola seeds to the country.
"Richardson has been directly targeted," vice-president Jean-Marc Ruest told CBC News. "We think this is part of a larger Canada-China issue, and we hope it gets resolved expeditiously."
In the past, China has sought to limit the amount of "dockage" it allows in Canadian canola — referring to material such as weeds, stems and other seeds — to help fight the spread of a fungal crop disease known as blackleg.
But Ruest said the company believes this new flare-up isn't related to those claims, but instead is tied to a roiling diplomatic dispute between the two countries.
"In regards to any issue of quality, we disagree with the Chinese allegations. The Canadian government respects and supports our position, and the quality of our product, at the same time."
Canada exported more than $5 billion worth of canola last year, and almost half of it was destined for the Chinese market — almost five million metric tonnes worth, according to the Canadian Canola Growers Association.
Richardson is among the largest individual shippers of the product in the world, and this move "would basically curb or shut down their exports of canola," growers association chief executive Rick White said in an interview.
"If Richardson can't buy and move it and send it to China, farmers are to be left with it here in Canada."
The news comes against the backdrop of rising tensions between Canada and China ignited last year, when Canadian officials detained Meng Wanzhou, vice-president of Chinese technology firm Huawei, at the request of U.S. tax authorities as she was boarding a flight in Vancouver.
Meng, who is the daughter of Huawei's founder, was arrested on Dec. 1, 2018, while in transit through Vancouver to Mexico and South America. She is now involved in an extradition case and personal litigation against Canadian border officials, the RCMP and the attorney general of Canada.
Two Canadians — Michael Kovrig and Michael Spavor — have since been detained in China, and on Monday the two men were accused of stealing state secrets from China.
White said that while there's "no evidence or any information that ties that issue one to the other," others are drawing a direct line between the revocation of Richardson's permit with ongoing Chinese-Canadian trade and diplomatic issues.
One industry expert who has been granted anonymity for fear of becoming the target retaliatory measures from China said the move is "direct retaliation" for Canada's recent actions — including the unfolding scandal involving SNC-Lavalin.
The Chinese see that "Trudeau was willing to intervene in legal matters to help … SNC, while at the same time refused to intervene to have Meng released to avoid extradition," the source said.
"Richardson is the largest canola exporter and is Canadian … so [it's] the best target to send a message."
For its part, the government of Canada says it "will work with China to resolve this issue as quickly as possible."
"We are closely monitoring the situation and any potential impact on Canada's agricultural trading relationship with China," newly minted Agriculture Minister Marie-Claude Bibeau said in a statement to CBC News.
"We are in regular contact with industry stakeholders regarding this matter, and we will keep them informed as additional information becomes available."
Charles Burton, senior fellow at the McDonald Laurier Institute and a former Canadian diplomat who served two postings in China, predicted last week that a crackdown on Canadian canola would be one possible tactic it would employ.
"Richardson seems to be a completely innocent victim of a larger geopolitical game," he added on Tuesday.
He added that he hopes Beijing will reverse the decision, so both countries will "see what we can do to try and recover from the very damaged trust between our two nations because of the Chinese government's horrendous response," he said.
Sui Sui, a professor at the Ted Rogers School of Management at Ryerson University in Toronto, said she suspects the move against Richardson is likely more tied to a specific rule violation than some larger diplomatic game.
"I'm sure there's something special about this company," she said in an interview. "If [a] Canadian company has a good relationship and [they] comply with regulations, I don't think they have to worry too much about it."
While the canola industry has been thrown for an unexpected loop, on the whole agricultural exports from Canada to China are inching higher.
Canada's sudden issue with China comes against the backdrop of even worse trade tensions between China and the U.S., and Canada has become something of a pawn in that dispute.
As the Trump administration put tariffs on Chinese imports last year, Beijing retaliated and put levies on all sorts of U.S. products bound for China. One of the major ones is soybeans, which are now subject to a 25 per cent levy when they are shipping from the U.S. to China.
Faced with that sudden bill, Chinese importers tried to work around it by buying more from other countries, including Brazil and Canada. Canada was the second-leading supplier of soybeans to China in January, behind only Brazil.
With files from the CBC's Scott Peterson, Karen Pauls and Katie Simpson
Toronto Pearson Recognized as North America's Best
In 2013, Toronto Pearson set out a bold vision – to be the best airport in the world. Our team made a commitment to listening to our passengers, working with our partners and operating in an innovative and collaborative way. In 2017, we saw signs that these efforts were paying off, when Toronto Pearson was recognized by Airports Council International (ACI)'s Airport Service Quality Program as the Best Airport in North America serving over 40 million passengers.
I am pleased to tell you that today, ACI announced that Toronto Pearson has again been recognized as the 2018 Best Large Airport in North America and was doubly recognized as the Most Improved Airport in North America.
This recognition reflects Toronto Pearson's ASQ score of 4.45 out of a possible 5. To earn the "most improved" designation, Toronto Pearson also demonstrated the most year-over-year improvements of any participating airport, making improvements in almost 90 per cent of the customer experience indicators measured.
When travelling through Toronto Pearson, you may have noticed some of the new ways you can count on Pearson to deliver a great travel experience, that gets our passengers to their destinations smoothly, reliably and comfortably:
Improvements to airport ambiance – including enhanced customer service and the opening of 26 new retail, food and beverage locations across both terminals, including a redevelopment of the US Food Court area located near Duty Free in Terminal 3;
Moving passengers faster from curb to gate – with new CATSA Plus security screening lanes, more than 400 digital screens introduced for improved wayfinding, and enhanced ground transportation options;
Creating a more comfortable environment – including 80 fully renovated washrooms in Terminal 3, continued work towards improvement of the cleanliness of terminals, the introduction of therapy dogs and nursing pods, and assisted changerooms; and,
Enhanced entertainment – with the free in-terminal music program, YYZ Live, and ten times faster free airport WiFi.
This achievement is possible because of the dedication and effort of the nearly 50,000 employees, representing 400 employers, that bring Toronto Pearson to our passengers every day. Their hard work and dedication mean that our global visitors start and finish their time in Toronto with a world-class passenger experience.
The news release can be viewed here.
Howard Eng
President and Chief Executive Officer
GREATER TORONTO AIRPORTS AUTHORITY
Press Release regarding new International President, Sir Peter Hendy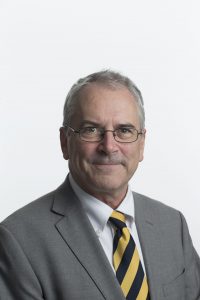 The Chartered Institute of Logistics and Transport is pleased to announce Sir Peter Hendy CBE as International President for our Centenary year.
Sir Peter is one of Britain's foremost transport practitioners, and is currently Chair of Network Rail, responsible for the management and development of Britain's 20,000 miles of railway infrastructure. He is also Chair of the London Legacy Development Corporation which is developing the Queen Elizabeth Olympic Park, Peter having been successfully responsible for transport in London during the 2012 Olympic and Paralympic Games.
Sir Peter takes on the Presidency at an important time in the history of our Institute. Our Centenary is a time of celebration, with events throughout the year including our Centenary International Convention, to be held this year in Manchester between the 16th and 18th of June.
This year's Convention agenda focuses on the challenges we face as an industry, and how we reshape our Institute to meet them. Opening with sessions dedicated to our Young Professionals and Women in Logistics and Transport forums, day one will carry a particular focus on remodelling our offering to younger members. This is part of an ongoing process started under Immediate Past President Kevin Byrne to ensure we are not only supporting the professionals of today, but nurturing the next generation of industry leaders.
Our Women in Logistics and Transport forum, a leader in the fields of representation, gender equality and social responsibility, will further lead discussion on our work towards a more open, equal and sustainable industry.
On day two, we lay the foundations for another century of excellence in logistics and transport. Focusing on the Institute as a whole, the day's agenda will include discussion of our education and membership offerings, and how we deliver on our commitments to high standards and accessibility in a fast-changing world.
Day three's agenda looks outward to the challenges, technologies, and ideas that are transforming our industry. Featuring presentations from thought-leaders and senior professionals, day three will focus on logistics as a global profession, and promote discussion of solutions to issues at the local and international level.
In addition to Centenary Convention, senior industry figures from around the world will gather on the 3rd of November at the Savoy Hotel, London, where 100 years ago the foundations of our Institute were laid. It is entirely appropriate that Sir Peter, a veteran of the transport and logistics sector with a record of exemplary public service should represent our modern Institute at this event.
The 2019 Africa Forum is to be hosted by CILT Zimbabwe at the Harare International Conference Centre between the 4th and 6th of April. Titled From Resilience to Efficiency – 100 years of Navigating Supply Chain, Logistics and Transport for Africa's Growth, the forum will focus on the infrastructure and policy agenda being enacted by CILT members in government across the continent. There will also be a strong focus on education and professional training, with an emphasis examining how we as an Institute can continue to set standards and provide access to quality education in a complex and rapidly changing environment.
Sir Peter Hendy CBE is an alumnus of Latymer Upper School, London, and the University of Leeds. He first joined Transport for London's predecessor London Transport, as a graduate trainee in 1975, gaining experience of all aspects of bus operations. In 1989, Sir Peter was appointed Managing Director of CentreWest London Buses Ltd. Five years later he led the successful buy-out of CentreWest by its management and staff with venture capital backing. He expanded the business, and, after its sale to FirstGroup plc in 1997, he became Divisional Director, London and South East.
In January 2001, Sir Peter re-joined the public sector to become TfL's Managing Director of Surface Transport, where he oversaw the revitalisation of London's bus service, resulting in an increase in passengers of more than 60 percent. As Transport Commissioner, Sir Peter led the largest long-term investment programme in London's transport network in generations, vital to supporting economic development and growth not only in the Capital but across the UK.
Following the terrorist attacks on London on 7th July 2005 and the immediate recovery of the public transport networks, Sir Peter was awarded the CBE in the 2006 New Year's Honours List for services to public transport and the community in London.
The London 2012 Games demonstrated how far the capital's transport network had come under Sir Peter's leadership. Sir Peter chaired the 2012 Games Transport Board, which saw TfL work in partnership with Games organisers, government, local authorities, transport operators and regulators to ensure all athletes, officials and spectators got to their events on time, and London and the UK kept moving and remained open for business.
In 2015 Sir Peter stood down from his position as Commissioner of Transport for Transport for London, having served in that role for nine and a half years. Knighted in the New Year's Honours List 2013, the citation for him said he had provided inspiring leadership since becoming Commissioner in February 2006.
Sir Peter is married to Sue, and has two children, Dave and Anna. He supports the Railway Children and London Poppy Day charities, is a trustee of London's Transport Museum, Vice-President of the Widcombe Social Club in Bath and supports St Giles' church at Imber, Wiltshire. He also owns and drives two iconic London Routemaster buses.
Speaking about his Presidency and the coming Centenary year, Sir Peter described CILT as 'a remarkable organisation, a reassuringly constant presence in an ever-changing world…As we celebrate the strengths and values of this remarkable organisation, we must also rededicate our Institute to our core values, and to the task of upholding them for the next 100 years.'
The Chartered Institute of Logistics and Transport supports the professionals who plan the systems, who bring in the raw materials, who manage the movement of people and goods, who ensure safety standards, maintain mobility, and keep the economy working.
We are the leading professional body for everyone who works in supply chain, logistics and transport. We are a global family, representing professionals at all levels across all sectors, with a mission to give individuals and organisations access to the tools, the knowledge and the connections vital to success in the logistics and transport industry.
Founded in 1919 with a mission to improve industry practices and nurture talent, our Institute supports over 35,000 members in 35 countries. Through our educational suite, our strong community and our commitment to high standards, we help professionals at all levels to develop their careers and access better jobs.
"Finding Ways to Support Urban Transit: Marc-André Roy suggests "a smarter way to help fund phase 2 of Ottawa's LRT"
Ottawa city councillors are being asked to approve the contract for the $4.66-billion Phase 2 LRT project by March 6.
Notwithstanding ongoing efforts to secure the provincial $1.2-billion share of the project, it was revealed in a technical briefing last week that the cost of the project is more than $1 billion over the original target – owing in part to a longer than anticipated construction schedule and higher than expected construction costs.
The city has reported that it plans to cover the higher than expected cost of the project using an additional $700 million in debt, to be paid back over the next 30 years.
That debt and the related interest will have to be repaid through tax or other revenues. But let's be clear: Ottawa taxpayers will largely be on the hook. And beyond bridging a funding gap, this financing approach will do little to draw more users to the eventual LRT or promote its wider benefits.
There is a smarter way. A 2017 study commissioned by four city councillors points to potential options to simultaneously promote transit use and reduce road congestion, while raising funding for important infrastructure projects such as the Phase 2 LRT project.
The study, The Potential for Congestion Pricing Tools in the City of Ottawa, by CPCS, a global management consulting firm, identified a downtown parking tax or levy as likely the most appropriate congestion pricing tool for Ottawa to encourage mode shift from auto to transit.
A $2 daily parking levy on existing downtown paid parking spots during peak periods would generate close to $50 million in gross annual revenues. Capitalized at five per cent, this could generate about $1 billion, which is about the size of the higher expected cost of LRT Phase 2. Such a levy is relatively easy to put in place, has low administrative costs compared to other congestion pricing tools, and is entirely within the city's powers to implement.
This approach is not novel and is used in other jurisdictions, including most large U.S. cities. The impact of a parking levy could be muted where commuters benefit from subsidized parking, but there are fewer and fewer such instances. The federal government has largely phased out its subsidies for parking in Ottawa, for example. More recently, the Treasury Board Secretariat has completely eliminated parking benefits for management category employees in several bargaining unit groups. This trend will continue.
Sure, those who would be stuck paying the levy – those who drive into the city's urban core during peak times and who currently pay for parking, may be unhappy about the levy. Some would presumably shift to using transit, including the LRT. The same 2017 study found that a parking levy could lead to a seven-per-cent increase in transit use in Ottawa. This would remove cars from the roads. Those who choose to continue to drive and pay the parking levy would face less congestion, and at the same time contribute to reducing the city's debt load from the LRT Phase 2 project, to the benefit of all city of Ottawa taxpayers.
To be clear, the use of a parking levy is as much a policy tool – to promote a mode shift from cars to transit – as it is a revenue generating tool.
A parking levy is a better solution to pay for the higher than expected cost of Phase 2 of the LRT project. Implementing a parking levy takes political courage. But it is a smart approach that can go a long way in helping realize the full benefit of the LRT project – to improve mobility in Ottawa.
Marc-André Roy is a Managing Partner with CPCS and was involved in the congestion-pricing study. He is based in Ottawa.
https://ottawacitizen.com/opinion/columnists/roy-heres-a-smarter-way-to-help-fund-phase-2-of-ottawas-lrt 
9 Tech Trends That Could Transform Trucking
ISB Canada CEO Michael Thompson has seen how tech can transform an industry. He identifies nine tech trends that promise to transform the trucking industry. These trends are: 1) Optical Character Recognition (OCR); 2) Global Positioning Systems; 3) Blockchain; 4) Virtual reality and augmented reality; 5) Drones; 6) The sharing economy; 7) e-commerce; 8) 3D printers; 9) Analytics.  February 28, 2019, www.todaystrucking.com
New Study Criticizes Plan to Privatize Canadian Airports
A new study unhesitatingly concludes that privatizing Canadian airports would not lead to any significant productivity gains. The federal government has been considering privatizing the eight largest airports in the national network since a report was tabled on the future of transportation in Canada, but the idea has not received unanimous approval. While it is certainly attractive in terms of public finances, the prospect has been strongly criticized by different stakeholders, from airlines worried about seeing user fees increase to certain airport authorities who see no benefits for the country. The Centre for Productivity and Prosperity – Walter J. Somers Foundation, wishing to shed more light on this question, has released a study on the potential impact of this change for Canada. By analyzing the impact of different governance models at airports around the world, the author found that privatization does not guarantee more efficient and effective management.  February 22, 2019, www.ctl.ca
Uber Freight Eyes Global Expansion
Uber Freight, which spun out of Uber to become its own business unit in 2018, has offices in San Francisco and Chicago. The company has been scaling up its business since launching in May 2017, growing from limited regional operations in Texas to the rest of the continental United States. Uber Freight has bigger expansion plans for 2019, including Canada. The company plans to more than double its staff this year and is eyeing international markets. The company doesn't disclose employee numbers. However, insiders target the number at "hundreds." Uber Freight already has a dedicated team looking into international markets, the company confirmed.  February 15, 2019, www.ontruck.org
IATA Calls on US Government, Industry, to Work Together to Grow Aviation's Benefits
The International Air Transport Association (IATA) urged the United States government and industry to work together to ensure that aviation is able to accommodate an expected 62% rise in demand for air travel to, from and within the country over the next 20 years. Speaking at the International Aviation Club in Washington, D.C., Alexandre de Juniac, IATA's Director General and CEO, noted that aviation already supports 6.5 million jobs in the United States and contributes over $778 billion to GDP, including aviation-supported tourism. The social and economic benefits enabled by aviation will increase as the number of passenger journeys rises to 1.26 billion by 2037, from 780 million in 2017. De Juniac highlighted key factors necessary to ensure aviation is able to meet this increase and grow aviation's benefits. These include maintaining a competitive environment that stimulates innovation, and adequate infrastructure to cope with new demand.   February 13, 2019, www.iata.org
U.S. Department of Transportation Announces More than $60 Million in Funding for Leading Transportation Research
The U.S. Department of Transportation (USDOT) on February 5, 2019 announced more than $60 million in funding for 32 University Transportation Centers (UTCs) around the country. UTCs are comprised of groups of universities seeking solutions to national, regional and local transportation issues. The 32 UTCs were previously selected for grants authorized under the Fixing America's Surface Transportation (FAST) Act.  February 5, 2019, www.dot.gov
Port of Montreal to accelerate Contrecoeur project
Following a fifth consecutive year in 2018 of record tonnage handled at the Port of Montreal, and the likelihood of similar anticipated growth in the coming years, the Montreal Port Authority (MPA) has decided to work in priority with its terminal operators, Montreal Gateway Terminals Partnership (MGTP) and Termont Montreal Inc., to accelerate the execution of its business strategy for its container terminal project at Contrecoeur. "In 2018, we handled a record 1.6 million containers, a nine per cent increase compared to 2017. We are experiencing this growth with our partners, the operators and the shipping lines serving their respective terminals. We have decided to preferentially offer these operators the opportunity to pursue their growth at Contrecoeur," said MPA president and CEO Sylvie Vachon.  January 23, 2019, www.portofmontreal.ca
Ontario Helping Commercial Carriers Save Time, Money, and Fuel
On January 24, 2019, Jeff Yurek, Minister of Transportation announced new technology at Ontario truck inspection stations that will reduce delays, promote on time delivery of goods and improve road safety. Pre-clearance technology quickly identifies high-risk trucks as they approach a truck inspection station and provides an alert to Ministry of Transportation enforcement officers to have the truck enter the station for a full inspection. Trucks with good safety records receive an alert to bypass the stop—saving time, money and fuel. The mobile application called Drivewyze will be delivered by Intelligent Imaging Systems Inc., a Canadian based company. January 24, 2019, www.mto.on.gov.ca
Ottawa Chapter January Luncheon – Presentation by Dr. Paul Fitzgerald on Curbing Airline Emissions - January 16, 2018
GUEST SPEAKER
Dr. Paul Fitzgerald, Former Member (Judge) of the Canadian Transportation
Agency & Adjunct Professor of Air & Space Law, McGill University.
"Curbing Airline Emissions, Guidance from the New Book, Sustainable
Development, International Aviation and Treaty Implementation" 

Presentation:
Dr. Paul Fitzgerald,Former Member (Judge) of the Canadian Transportation Agency & Adjunct Professor of Air & Space Law, McGill University, – Curbing Airline Emissions, Guidance from the New Book, Sustainable Development, International Aviation and Treaty Implementation

*********************************************************************************
Ocean Shipping Trends: What to Expect in 2019
This has been an interesting year for the ocean shipping industry. Ocean carriers were mostly profitable at the end of 2017, but that trend eroded quickly in the first half of 2018. And, with fewer carriers now in business—a result of past consolidations—carriers are finally focusing first on profitability instead of on ensuring vessels are full. This smart focus continued to improve the carrier's financials towards the latter end of 2018. Will this trend continue into 2019 and beyond? Or, yet again, is this just a temporary recovery, as the trend has been since 2008? As we head into 2019, here are a few things to consider and keep in mind: 1) supply and demand; 2) political, government, trade, and tariff uncertainties; 3) U.S. choke points and last mile; 4) ocean carrier consolidation and investment in third party logistics providers (3PLs); and 5) ocean shipping technology.  

National Trade Corridors Fund
To follow up on Minister Garneau's announcement of December 18, 2018, to ensure that all are aware of the forthcoming launch of the continuous call for proposals under the National Trade Corridors Fund (NTCF), targeting trade diversification projects.
People will recall that the NTCF is a long-term transfer payment program aimed at increasing the efficiency and reliability of Canada's trade and transportation corridors. A total of $2 billion has been allocated for the NTCF. As part of the Investing in Canada Plan, the NTCF represents a long-term federal commitment to help ensure that Canada's trade-related transportation system provides a foundation for economic growth,supports job creation, and positions Canada as a target market for international investors.
To date, Minister Garneau has approved over $800 million from the NTCF for 39 projects, with a total cost of $1.9 billion, which includes contributions from other levels of government and the private sector. The projects are located in each province and territory, and will strengthen the efficiency and resilience of the ports, roads, railways, airports and intermodal facilities that Canadian businesses rely on to access global markets. A second call for proposals for projects that address urgent transportation needs in the territorial North is currently underway, and will close on March 29, 2019.
As part of the Fall Economic Statement, the Government of Canada has proposed a new Export Diversification Strategy to help businesses succeed internationally, and increase Canada's overseas exports by 50 per cent by 2025. The strategy will focus on:
Investing in infrastructure to support trade;
Providing Canadian businesses with resources to reach overseas markets; and
Enhancing trade services for Canadian exporters.
To advance this objective, the next NTCF call for proposals will open on January 15, 2019. At that time, eligible applicants– including provinces, municipalities, indigenous organizations, and other transportation asset owners and operators – are encouraged to submit an expression of interest for funding to support projects that will bolster export opportunities for Canadian businesses and help to diversify Canada's overseas trade.
For the expression of interest phase of this new call, we will evaluate projects on specific trade-related criteria that are already available on Transport Canada's website at www.tc.gc.ca. Detailed information on the process and how to apply, along with the applicant guide, will be added to the website on January 15, 2019. This will be a continuous call for proposals, with no set deadlines, that will be open as long as there are funds available.
CN Seeks Stake in Halterm Terminal to Offer Fast Transit Times to US
The Canadian National Railway (CN) has made an offer to acquire a stake in Halterm, the biggest container terminal in eastern Canada and located at the port of Halifax. The rationale for the CN acquisition is based on repeating the railway's success in Prince Rupert, British Columbia. As is the case there,Halifax's location, together with the railway operator's extensive network,would enable it to offer faster transit times to destinations in the United States versus direct shipping through more congested American ports, reported the Halifax Chronicle Herald.   (www.transportweekly.com)
Pacific Chapter Winter Luncheon on December 6th was a success!
On Thursday, December 6th the Pacific Chapter (CILTNA) hosted its Winter Luncheon featuring Guest Speaker, Mark Collins, President and CEO,BC Ferries. Guests, including sponsored students from Capilano U, UBC and BCIT, enjoyed a lively presentation from Mark. He talked about major investments in new ships, the adoption of clean technology throughout the ferry system, and the underwater noise mitigation plan to protect whales. He pointed out that BC Ferries is taking a lead in GHG reduction through it's new LNG powered ferries and its plans for electrification of vessels in the future. Mark praised the company's workforce, noting prolonged management/labour peace and the employees' commitment to the ferry service.
To sign up for membership in CILTNA, or to get information about future events, please email Pacific Chapter Chair, Marian Robson m.robson4651@gmail.com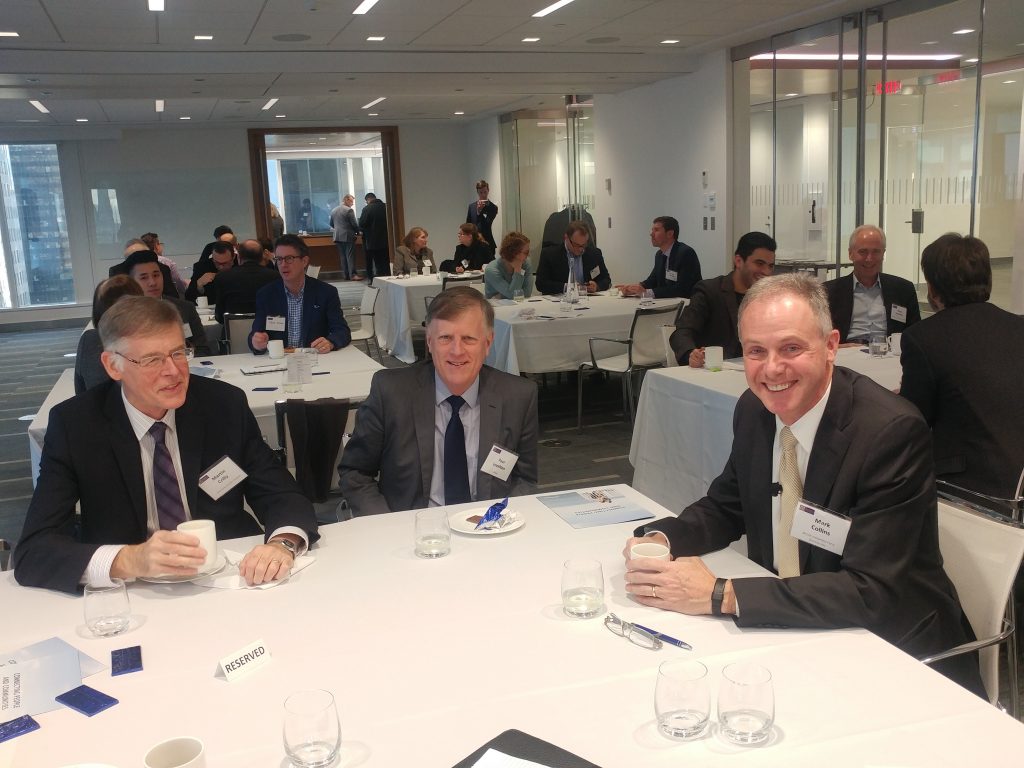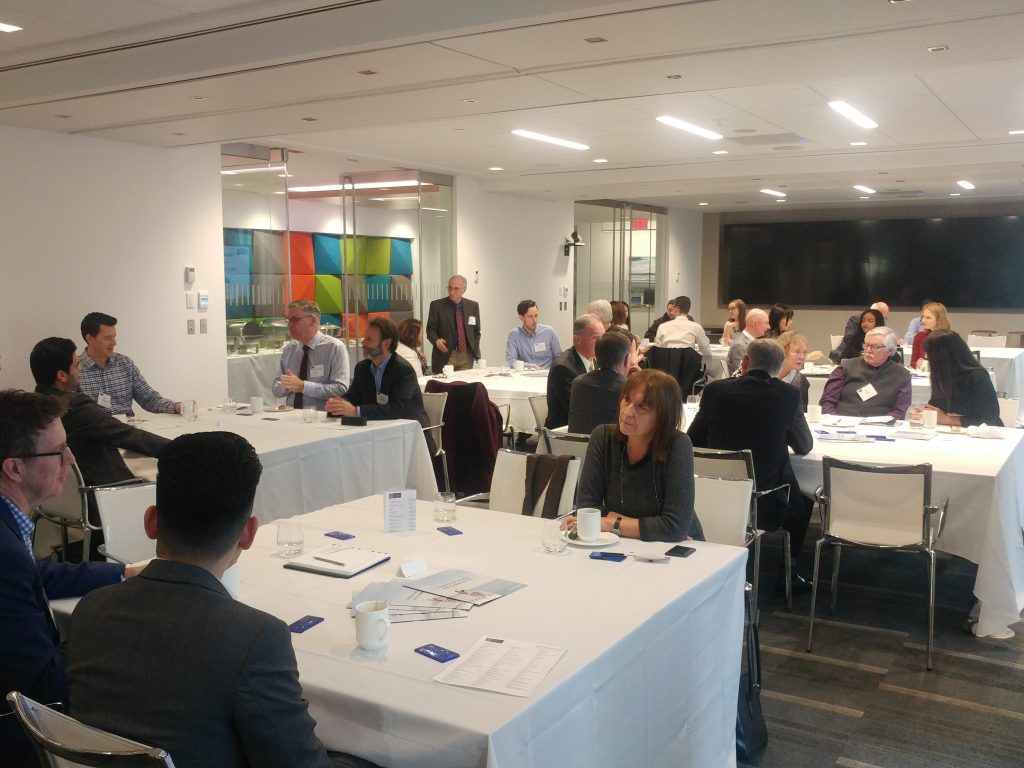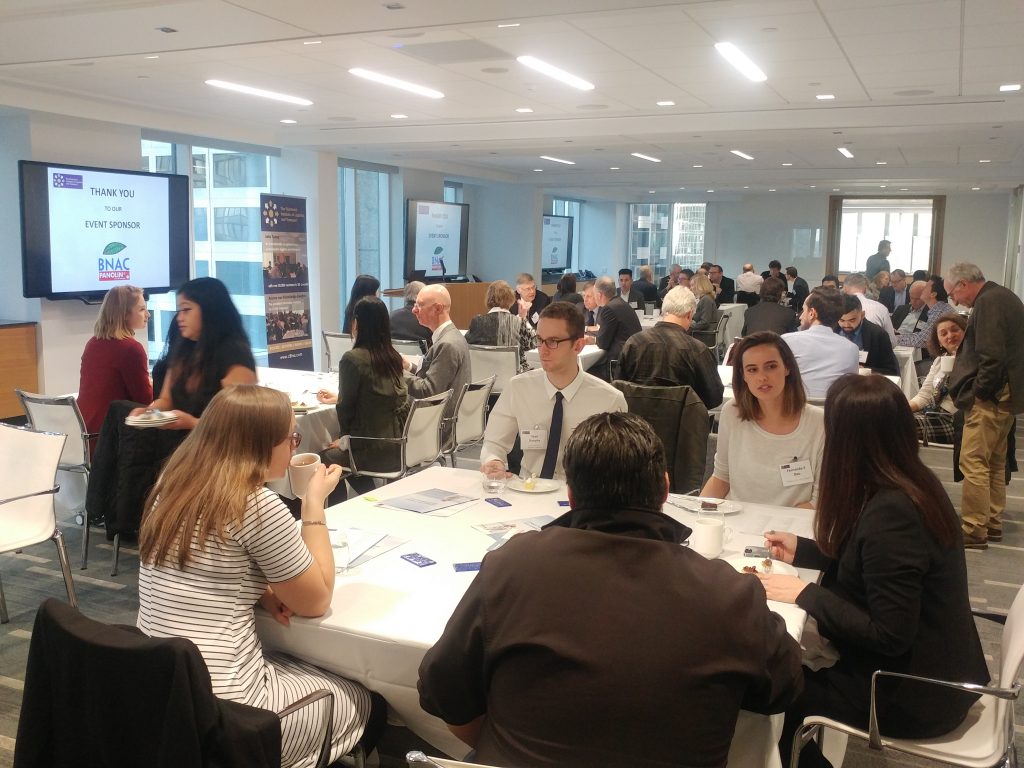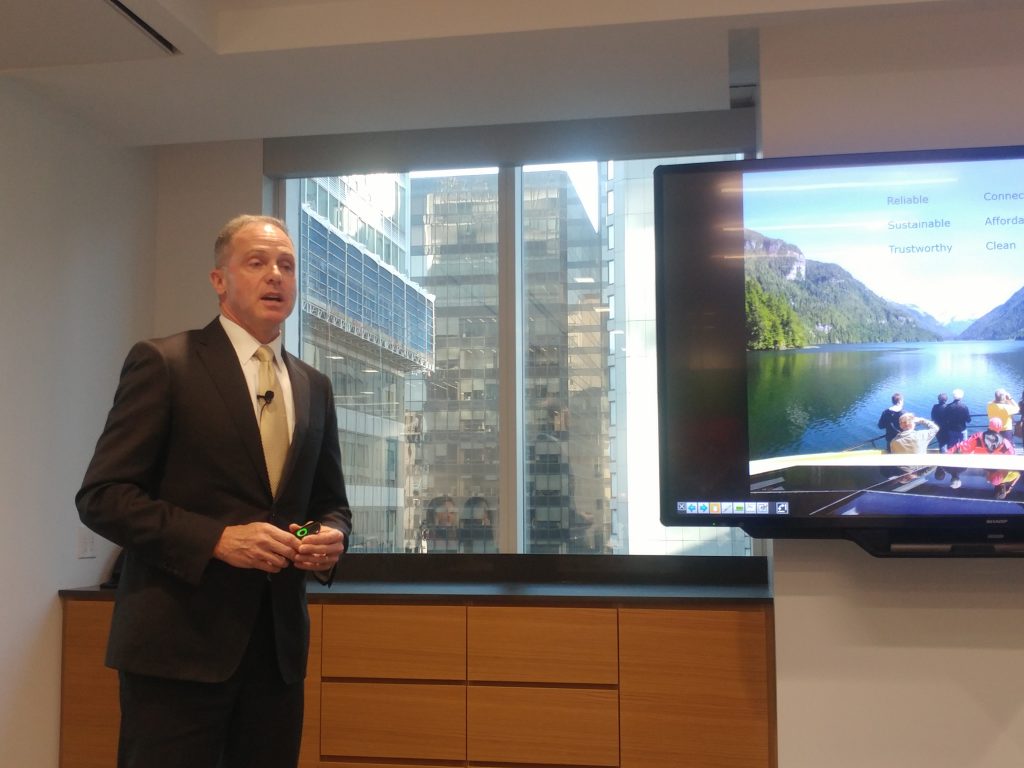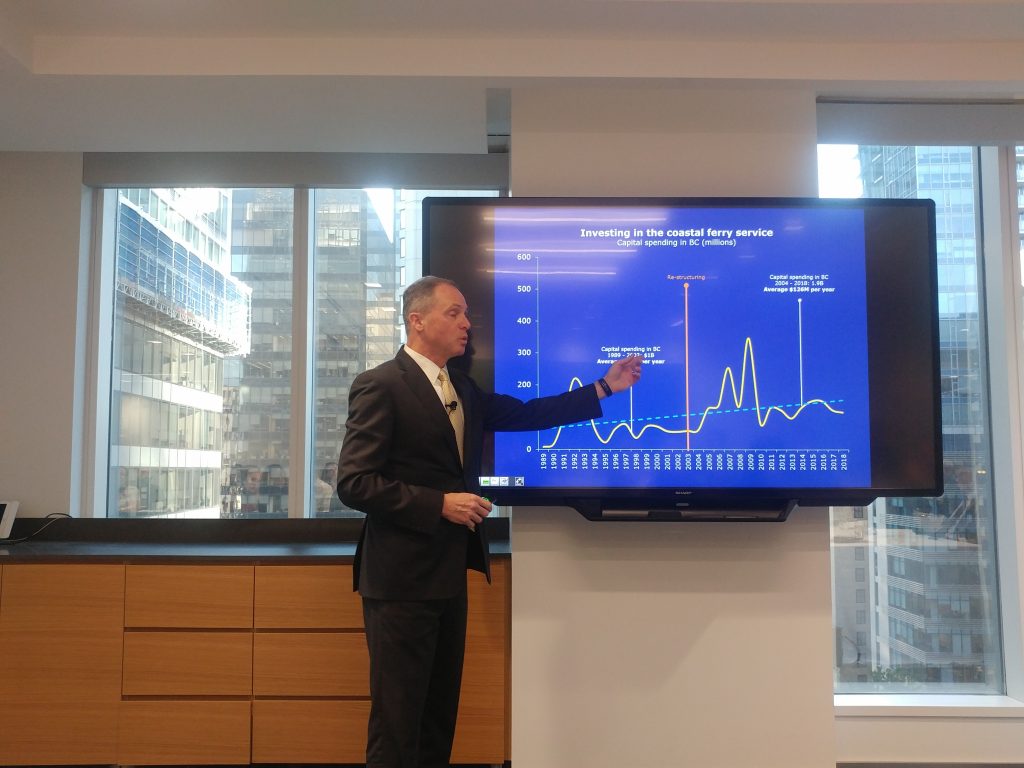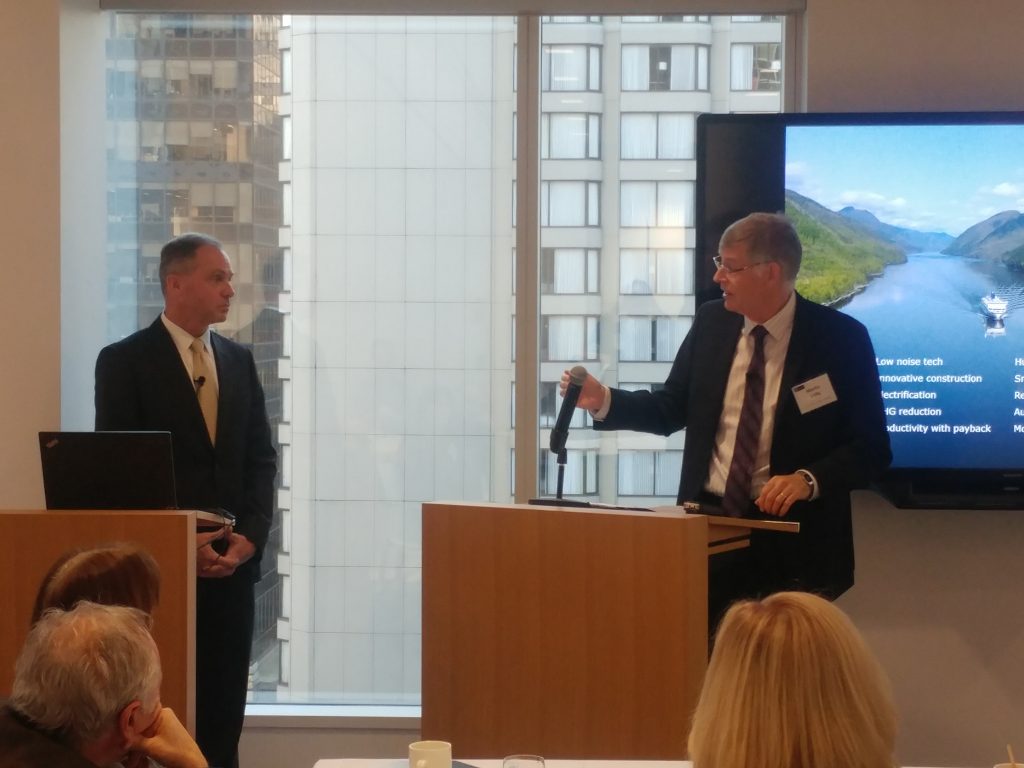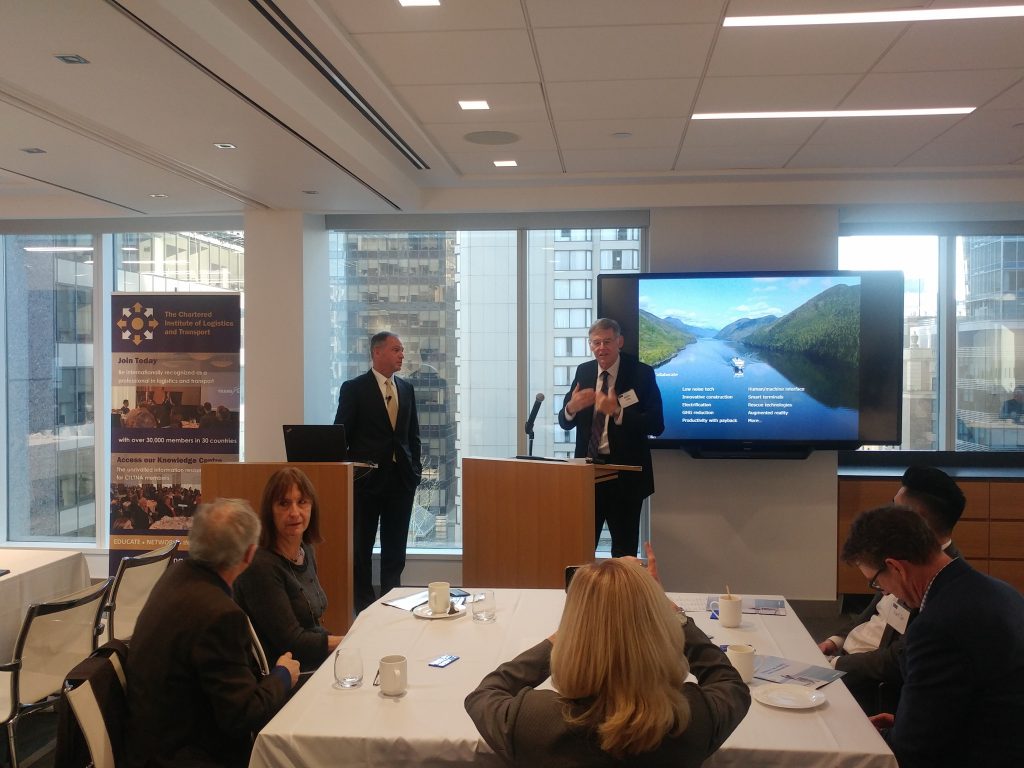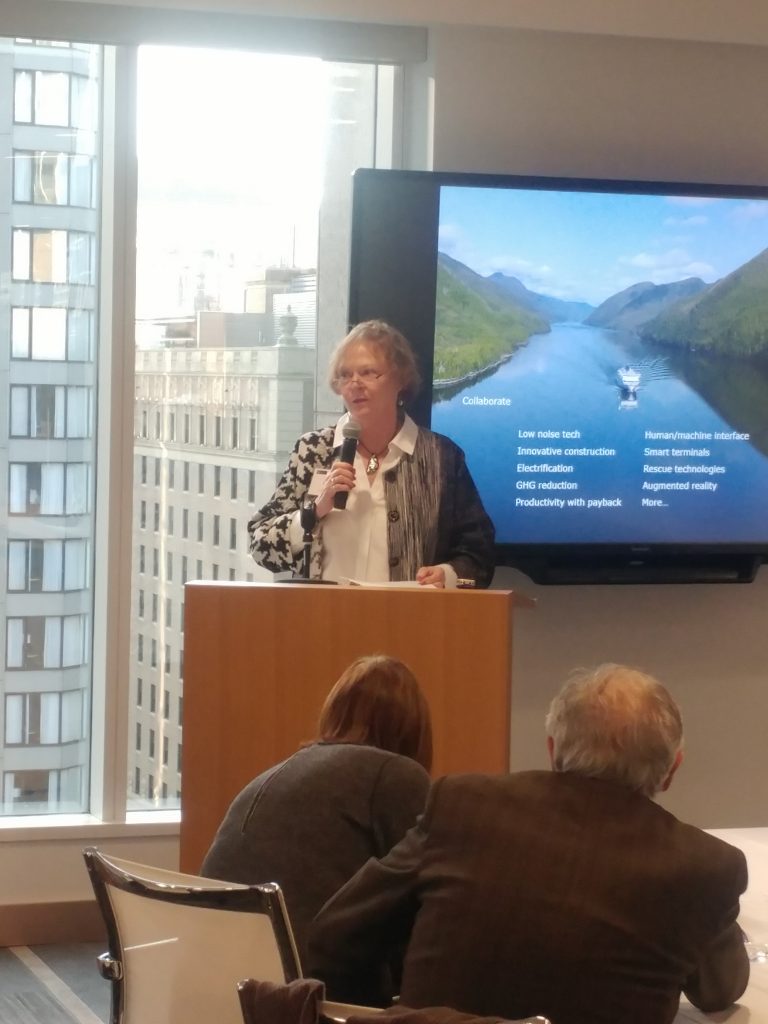 OCC Report: Moving Forward: Towards A Strategic Approach to Ontario's Transportation Needs (Part I)
A strategic approach to Ontario's transportation needs
The Ontario Chamber of Commerce (OCC)'s transportation report, Moving Forward: Towards A Strategic Approach to Ontario's Transportation Needs (Part I), calls on the Ontario Government to develop a Long-Term Transportation Plan. The report highlights three areas of opportunity that will help address the current and future transportation needs of the province and improve the movement of goods and mobility of Ontarians.
In a recent OCC survey, 58 percent of Ontario businesses rated existing transportation infrastructure as fair or poor. With much of the existing infrastructure in Ontario built in the 1950s and 1960s and nearing the end of its useful life, the OCC recognizes that the costs of investment are high, and Ontario is far behind when it comes to building new and maintaining old infrastructure.
This report is not an exhaustive review of all transportation modes and regional needs across the province. Instead, we cover three strategic and pertinent topics, both short and long-term in scope, for the provincial government's consideration. The three areas of opportunity contained in this report centre on:
Transit planning governance
Moving people and goods by rail
Autonomous vehicles
Unlock Metrolinx's potential to improve integration between regional transit services in the GTHA, and more effectively manage transportation infrastructure.
Develop a multi-modal transit hub at Toronto Pearson International Airport.
Conduct a review of transportation assets and limitations in Northern Ontario to determine how mobility in this region can be immediately improved.
Support municipal governments as they develop innovative solutions to address transit challenges.
Establish

 

Transportation Ontario, an independent, province-wide transportation planning authority that would advise the Ministry of Transportation and support regional transit agencies.
Develop a 30 to 50-year Long-Range Transportation Plan.
Develop a goods movement convenor framework that engages municipalities, the freight industry, relevant provincial Ministries, and the federal government where appropriate.
Invest in state-of-the-art technology such as CBTC to address immediate capacity concerns on the TTC subway network.
Prioritize investments with the greatest potential to provide a strong return on investment via economic growth.
Partner with the Canada Infrastructure Bank to secure funding for critical rail projects in both Northern and Southern Ontario.
Regularly review and update the existing AV pilot regulatory framework and evaluate existing legislation to determine if AV-relevant modernization is required.
Anticipate Ontario's AV future within the province's upcoming Long-Term Infrastructure Plan.
As the current Canadian leader in this space, the Government of Ontario should encourage the federal government to act on AV readiness.
Canada, UK conclude agreement to maintain flights to support the air transport, tourism and trade sectors.
The Honourable Marc Garneau, Minister of Transport, on December 1, 2018 announced the successful conclusion of a new Open Skies-type air transport agreement between Canada and the United Kingdom. The new agreement will allow any number of Canadian and British air carriers to operate between both countries, and gives those airlines full flexibility on route selection (including via third countries), frequency of service, and pricing. The agreement also includes unrestricted rights for all-cargo services as well as code-share services (when an air carrier sells seats on a flight operated by another carrier). The new agreement will take effect when the United Kingdom is no longer covered by the Canada-European Union Comprehensive Air Transport Agreement.
Hong Kong ALMC – Don't Get Left out in the Cold: Winning at COLD SUPPLY CHAIN LOGISTICS
CILTNA President, Bob Armstrong, along with Alexandre Tarini, VP Logistics at Olymel. Keith Reardon,Senior VP Consumer Products Supply Chain Growth CN and Derek Singline, Head of Key Client Sales,Asia Pacific Region for Maersk Line, moderated a presentation at the Hong Kong ALMC  on November 20-21, 2018. Their topic was " Don't Get Left out in the Cold: Winning at COLD SUPPLY CHAIN LOGISTICS. Their panel was a huge success with a full room of people from 35 countries!
Sponsored by: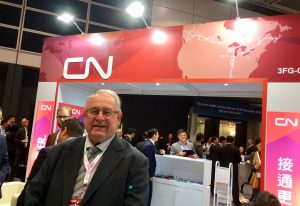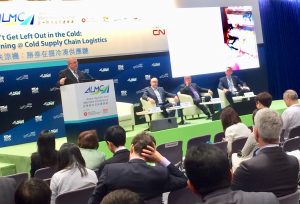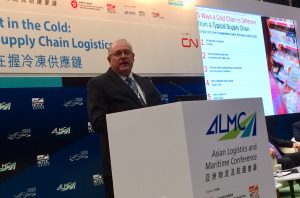 UN/CEFACT and CILTNA – A guest speaker event with Colin Laughlan and Marian Robson to the IBMP students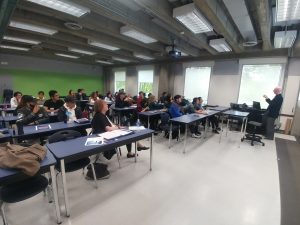 Mrs. Marian Robson is giving speech about CILTNA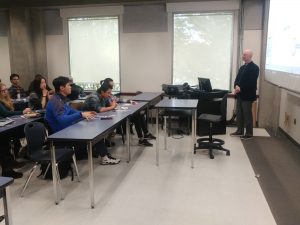 Written by Jackie Li, IBMP Program Head at BCIT
On Oct 5th, 2018, we have the pleasure to invite Mr. Colin Laughlan, former Vice Chair of UN/CEFACT and Mrs. Marian Robson, Chair of CILTNA Pacific Chapter to be our special speakers to discuss global trade and logistics with our IBMP students.
Mr. Laughlan, an expert in international trade and global affair offered a summarized history and functionality about UN/CEFACT. UN/CEFACT stands for United Nations Centre for Trade Facilitation and Electronic Business. This organization is a subsidiary of UNECE (United Nations Economic Commission Europe), headquarter in Geneva, Switzerland. Originally founded in 1957, UN/CEFACT has recommended standards, international forms and procedures to all participating members of UN in the many domains of global trade. It introduced utilization of cutting edge technologies such as EDI, Blockchain and Data pipeline into multi-lateral trade practice around the world. The presentation was warmly welcomed by the IBMP students with lots of curiosity and heart-felt questions about global trade.
Mrs. Robson, former Chair and CEO of the Canadian Transport Agency, a long term senior government official offered a presentation about CILTNA (Chartered Institute of Logistics and Transport, North America) for her royal charter history, student benefits and industry connection. CILTNA is an educational partner of IBMP BCIT. All IBMP graduates met the academic requirements for the designation of MILT (Member of CILT). Students are amazed by the long history of CILT and its rich connection to the senior level industry leaders. Many students signed up to be the Student Member of CILTNA. This is a benefit provided by CILTNA for free, so that students can utilize the abundant resources at the CILT industry library.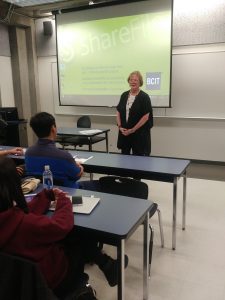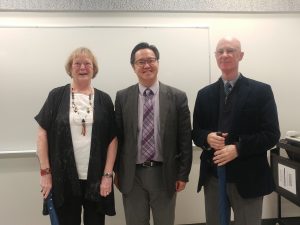 It was an informative and inquisitive presentation and exchange. I want to thank my friends Colin and Marian to volunteer their time to enlighten the next generation of logisticians and globe-trotters. I look forward to having them at many more industry events in future.
Feds Launch Infrastructure Statistics Hub Program
DCN News Services November 2, 2018
OTTAWA — The federal government has announced the launch of the Infrastructure Statistics Hub, described as an interactive tool that allows users to view data on the investment, stock and contribution of infrastructure to the Canadian economy from the recently launched Infrastructure Economic Account.
It was developed by Statistics Canada with the support of Infrastructure Canada and launched in September 2018 as part of a commitment made in Budget 2017 to support a more evidence- and results-based approach to public infrastructure policies, programs and investment decisions, said an Oct. 29 statement.
The release said the program includes data linkages between infrastructure investment, value added, number of jobs and other variables for both the public and private sectors. Information for the period 2009 to 2017 can be viewed on a map, table and graph and is presented for three main subject areas: investment, stock and economic contribution.
"The government is committed to an evidence-based approach to decision-making and new approaches to measure the impact of infrastructure investment," said Minister of Infrastructure and Communities Francois-Philippe Champagne in the statement.