Ocean Shipping Trends: What to Expect in 2019
This has been an interesting year for the ocean shipping industry. Ocean carriers were mostly profitable at the end of 2017, but that trend eroded quickly in the first half of 2018. And, with fewer carriers now in business—a result of past consolidations—carriers are finally focusing first on profitability instead of on ensuring vessels are full. This smart focus continued to improve the carrier's financials towards the latter end of 2018. Will this trend continue into 2019 and beyond? Or, yet again, is this just a temporary recovery, as the trend has been since 2008? As we head into 2019, here are a few things to consider and keep in mind: 1) supply and demand; 2) political, government, trade, and tariff uncertainties; 3) U.S. choke points and last mile; 4) ocean carrier consolidation and investment in third party logistics providers (3PLs); and 5) ocean shipping technology.  

National Trade Corridors Fund
To follow up on Minister Garneau's announcement of December 18, 2018, to ensure that all are aware of the forthcoming launch of the continuous call for proposals under the National Trade Corridors Fund (NTCF), targeting trade diversification projects.
People will recall that the NTCF is a long-term transfer payment program aimed at increasing the efficiency and reliability of Canada's trade and transportation corridors. A total of $2 billion has been allocated for the NTCF. As part of the Investing in Canada Plan, the NTCF represents a long-term federal commitment to help ensure that Canada's trade-related transportation system provides a foundation for economic growth,supports job creation, and positions Canada as a target market for international investors.
To date, Minister Garneau has approved over $800 million from the NTCF for 39 projects, with a total cost of $1.9 billion, which includes contributions from other levels of government and the private sector. The projects are located in each province and territory, and will strengthen the efficiency and resilience of the ports, roads, railways, airports and intermodal facilities that Canadian businesses rely on to access global markets. A second call for proposals for projects that address urgent transportation needs in the territorial North is currently underway, and will close on March 29, 2019.
As part of the Fall Economic Statement, the Government of Canada has proposed a new Export Diversification Strategy to help businesses succeed internationally, and increase Canada's overseas exports by 50 per cent by 2025. The strategy will focus on:
Investing in infrastructure to support trade;
Providing Canadian businesses with resources to reach overseas markets; and
Enhancing trade services for Canadian exporters.
To advance this objective, the next NTCF call for proposals will open on January 15, 2019. At that time, eligible applicants– including provinces, municipalities, indigenous organizations, and other transportation asset owners and operators – are encouraged to submit an expression of interest for funding to support projects that will bolster export opportunities for Canadian businesses and help to diversify Canada's overseas trade.
For the expression of interest phase of this new call, we will evaluate projects on specific trade-related criteria that are already available on Transport Canada's website at www.tc.gc.ca. Detailed information on the process and how to apply, along with the applicant guide, will be added to the website on January 15, 2019. This will be a continuous call for proposals, with no set deadlines, that will be open as long as there are funds available.
CN Seeks Stake in Halterm Terminal to Offer Fast Transit Times to US
The Canadian National Railway (CN) has made an offer to acquire a stake in Halterm, the biggest container terminal in eastern Canada and located at the port of Halifax. The rationale for the CN acquisition is based on repeating the railway's success in Prince Rupert, British Columbia. As is the case there,Halifax's location, together with the railway operator's extensive network,would enable it to offer faster transit times to destinations in the United States versus direct shipping through more congested American ports, reported the Halifax Chronicle Herald.   (www.transportweekly.com)
Pacific Chapter Winter Luncheon on December 6th was a success!
On Thursday, December 6th the Pacific Chapter (CILTNA) hosted its Winter Luncheon featuring Guest Speaker, Mark Collins, President and CEO,BC Ferries. Guests, including sponsored students from Capilano U, UBC and BCIT, enjoyed a lively presentation from Mark. He talked about major investments in new ships, the adoption of clean technology throughout the ferry system, and the underwater noise mitigation plan to protect whales. He pointed out that BC Ferries is taking a lead in GHG reduction through it's new LNG powered ferries and its plans for electrification of vessels in the future. Mark praised the company's workforce, noting prolonged management/labour peace and the employees' commitment to the ferry service.
To sign up for membership in CILTNA, or to get information about future events, please email Pacific Chapter Chair, Marian Robson m.robson4651@gmail.com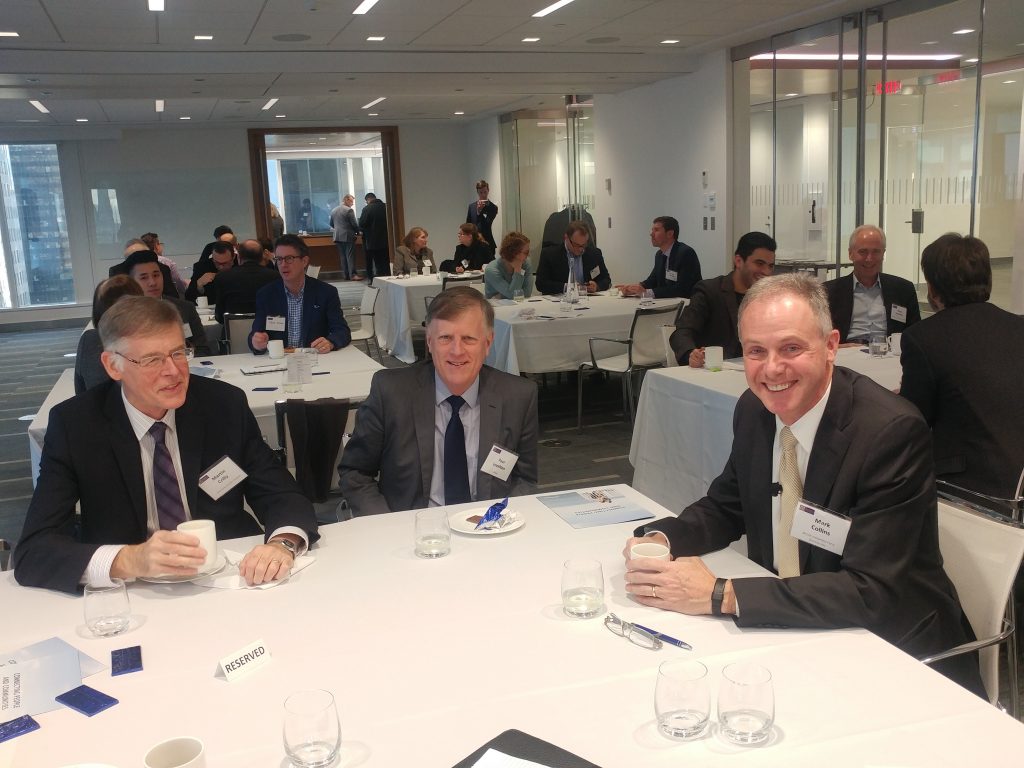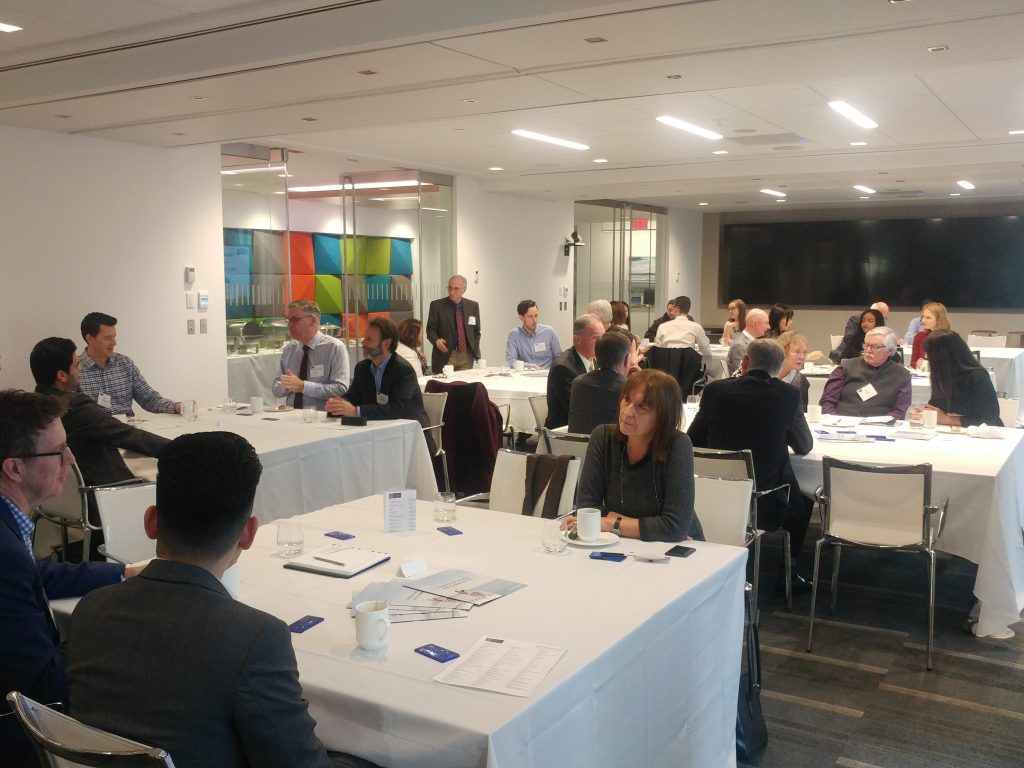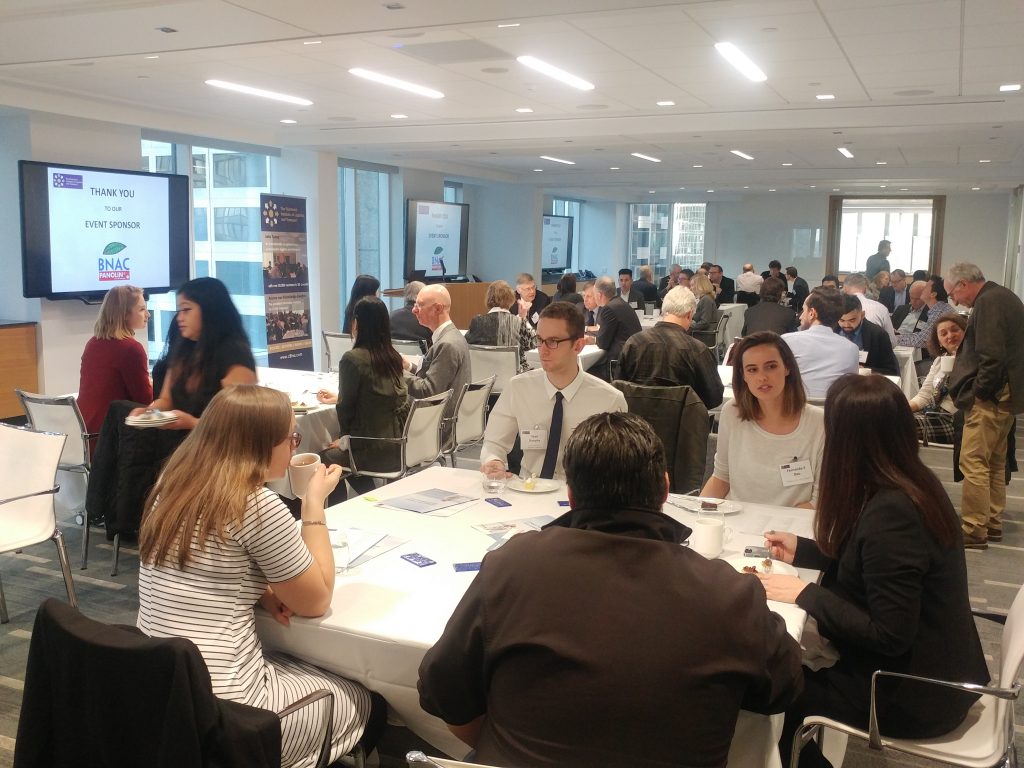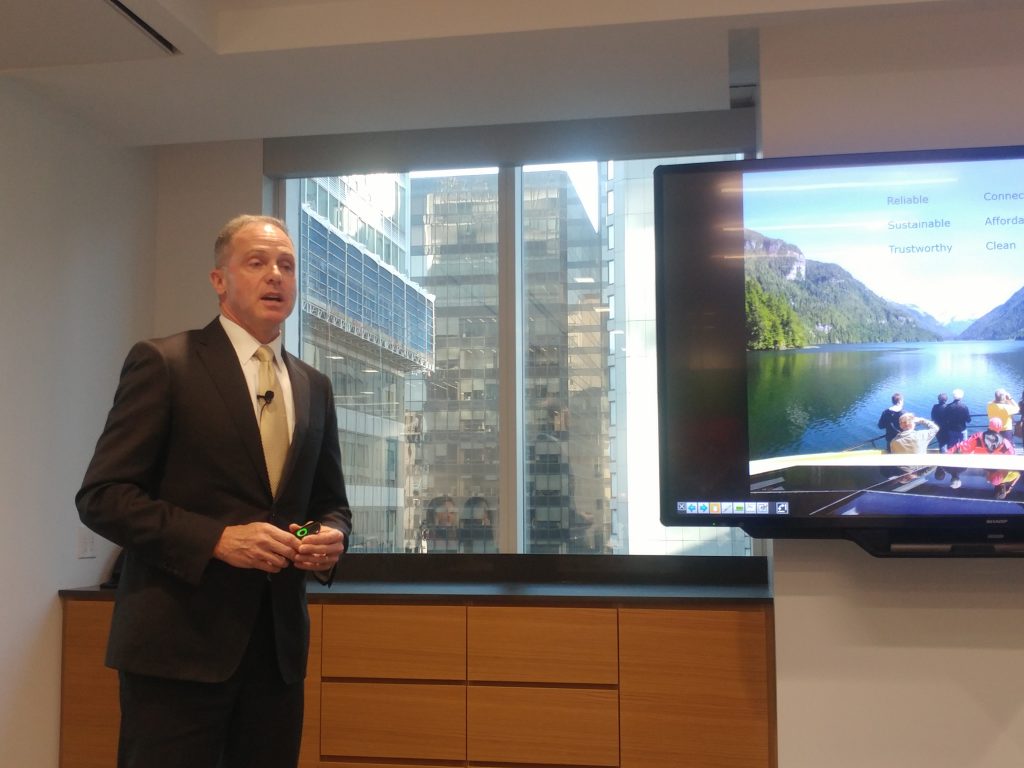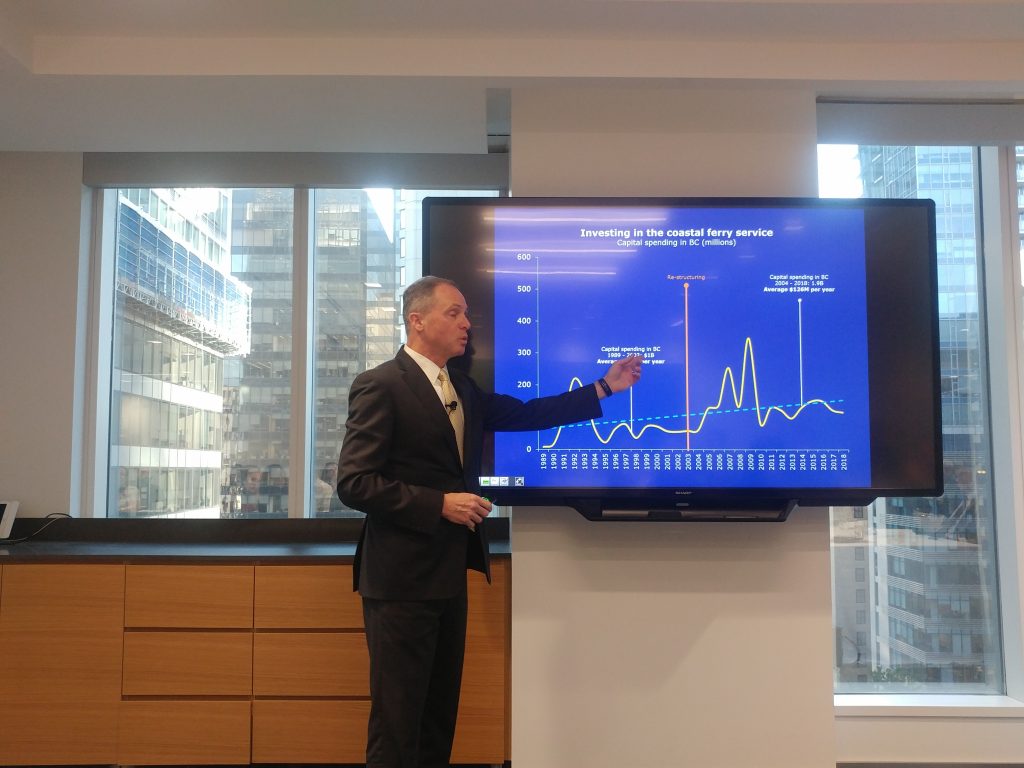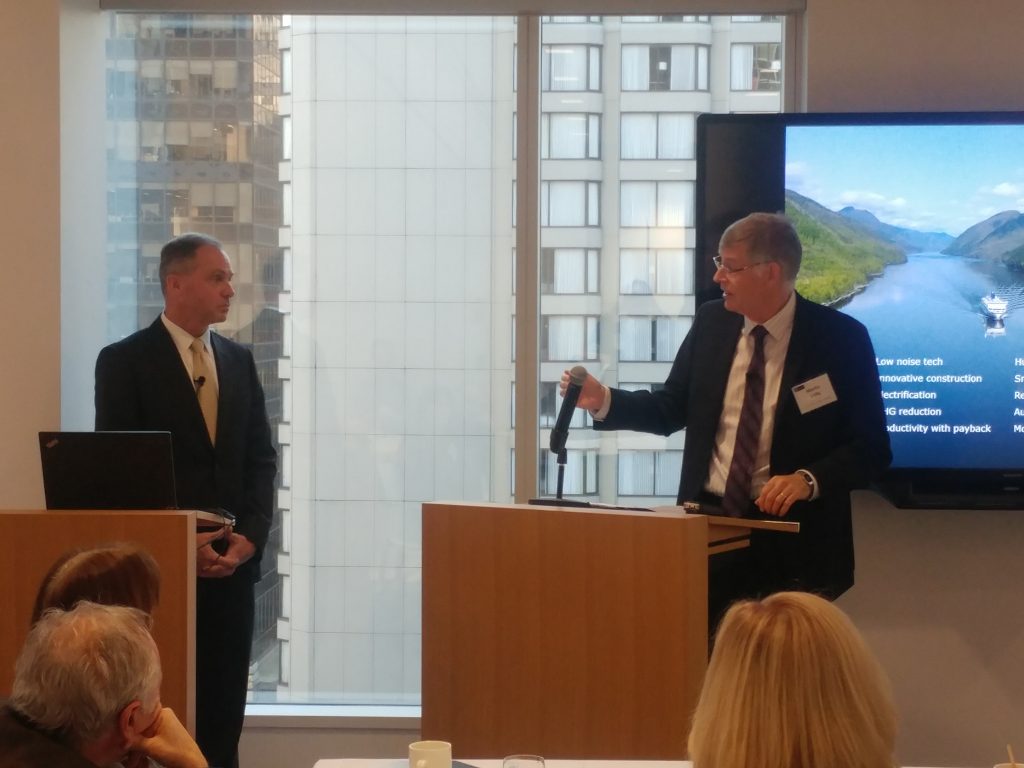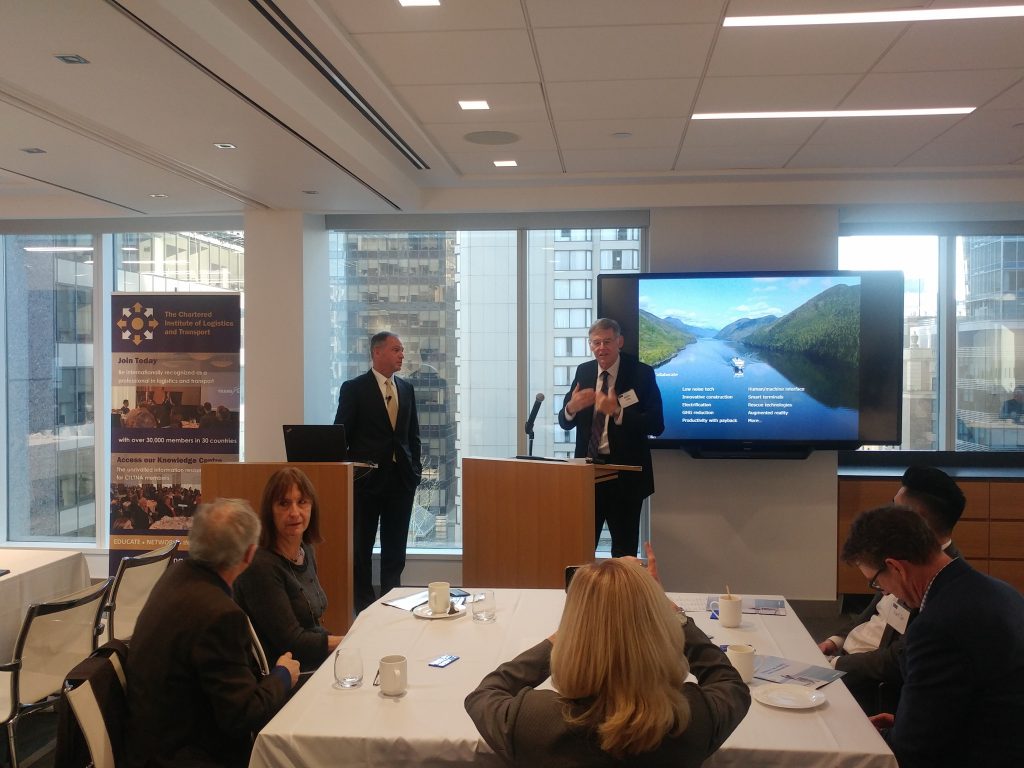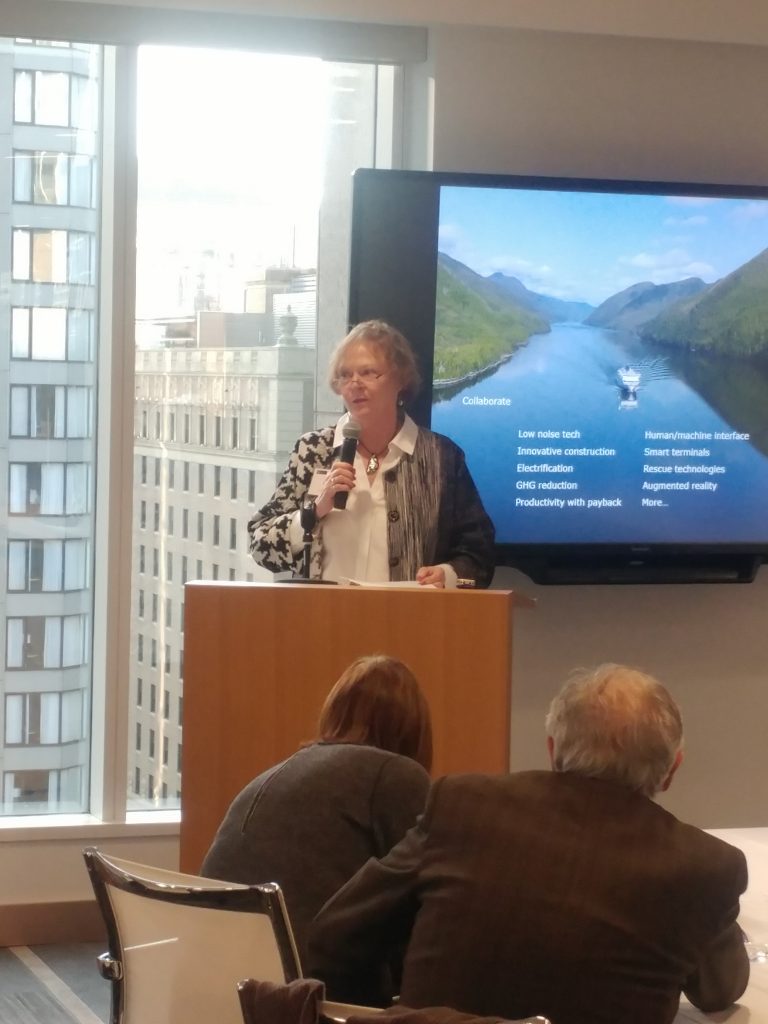 OCC Report: Moving Forward: Towards A Strategic Approach to Ontario's Transportation Needs (Part I)
A strategic approach to Ontario's transportation needs
The Ontario Chamber of Commerce (OCC)'s transportation report, Moving Forward: Towards A Strategic Approach to Ontario's Transportation Needs (Part I), calls on the Ontario Government to develop a Long-Term Transportation Plan. The report highlights three areas of opportunity that will help address the current and future transportation needs of the province and improve the movement of goods and mobility of Ontarians.
In a recent OCC survey, 58 percent of Ontario businesses rated existing transportation infrastructure as fair or poor. With much of the existing infrastructure in Ontario built in the 1950s and 1960s and nearing the end of its useful life, the OCC recognizes that the costs of investment are high, and Ontario is far behind when it comes to building new and maintaining old infrastructure.
This report is not an exhaustive review of all transportation modes and regional needs across the province. Instead, we cover three strategic and pertinent topics, both short and long-term in scope, for the provincial government's consideration. The three areas of opportunity contained in this report centre on:
Transit planning governance
Moving people and goods by rail
Autonomous vehicles
Unlock Metrolinx's potential to improve integration between regional transit services in the GTHA, and more effectively manage transportation infrastructure.
Develop a multi-modal transit hub at Toronto Pearson International Airport.
Conduct a review of transportation assets and limitations in Northern Ontario to determine how mobility in this region can be immediately improved.
Support municipal governments as they develop innovative solutions to address transit challenges.
Establish

 

Transportation Ontario, an independent, province-wide transportation planning authority that would advise the Ministry of Transportation and support regional transit agencies.
Develop a 30 to 50-year Long-Range Transportation Plan.
Develop a goods movement convenor framework that engages municipalities, the freight industry, relevant provincial Ministries, and the federal government where appropriate.
Invest in state-of-the-art technology such as CBTC to address immediate capacity concerns on the TTC subway network.
Prioritize investments with the greatest potential to provide a strong return on investment via economic growth.
Partner with the Canada Infrastructure Bank to secure funding for critical rail projects in both Northern and Southern Ontario.
Regularly review and update the existing AV pilot regulatory framework and evaluate existing legislation to determine if AV-relevant modernization is required.
Anticipate Ontario's AV future within the province's upcoming Long-Term Infrastructure Plan.
As the current Canadian leader in this space, the Government of Ontario should encourage the federal government to act on AV readiness.
Canada, UK conclude agreement to maintain flights to support the air transport, tourism and trade sectors.
The Honourable Marc Garneau, Minister of Transport, on December 1, 2018 announced the successful conclusion of a new Open Skies-type air transport agreement between Canada and the United Kingdom. The new agreement will allow any number of Canadian and British air carriers to operate between both countries, and gives those airlines full flexibility on route selection (including via third countries), frequency of service, and pricing. The agreement also includes unrestricted rights for all-cargo services as well as code-share services (when an air carrier sells seats on a flight operated by another carrier). The new agreement will take effect when the United Kingdom is no longer covered by the Canada-European Union Comprehensive Air Transport Agreement.
Hong Kong ALMC – Don't Get Left out in the Cold: Winning at COLD SUPPLY CHAIN LOGISTICS
CILTNA President, Bob Armstrong, along with Alexandre Tarini, VP Logistics at Olymel. Keith Reardon,Senior VP Consumer Products Supply Chain Growth CN and Derek Singline, Head of Key Client Sales,Asia Pacific Region for Maersk Line, moderated a presentation at the Hong Kong ALMC  on November 20-21, 2018. Their topic was " Don't Get Left out in the Cold: Winning at COLD SUPPLY CHAIN LOGISTICS. Their panel was a huge success with a full room of people from 35 countries!
Sponsored by: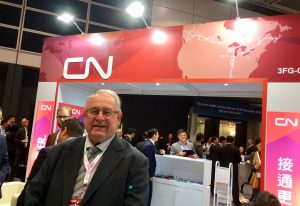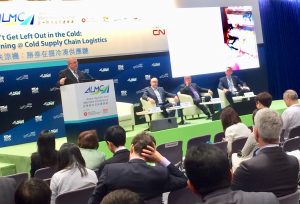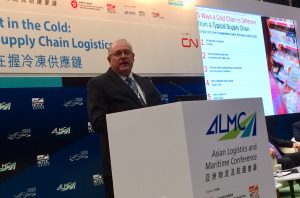 UN/CEFACT and CILTNA – A guest speaker event with Colin Laughlan and Marian Robson to the IBMP students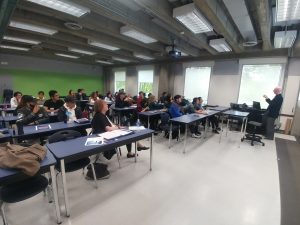 Mrs. Marian Robson is giving speech about CILTNA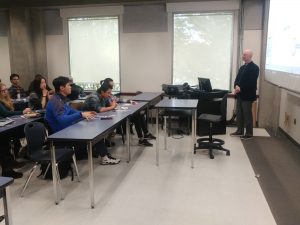 Written by Jackie Li, IBMP Program Head at BCIT
On Oct 5th, 2018, we have the pleasure to invite Mr. Colin Laughlan, former Vice Chair of UN/CEFACT and Mrs. Marian Robson, Chair of CILTNA Pacific Chapter to be our special speakers to discuss global trade and logistics with our IBMP students.
Mr. Laughlan, an expert in international trade and global affair offered a summarized history and functionality about UN/CEFACT. UN/CEFACT stands for United Nations Centre for Trade Facilitation and Electronic Business. This organization is a subsidiary of UNECE (United Nations Economic Commission Europe), headquarter in Geneva, Switzerland. Originally founded in 1957, UN/CEFACT has recommended standards, international forms and procedures to all participating members of UN in the many domains of global trade. It introduced utilization of cutting edge technologies such as EDI, Blockchain and Data pipeline into multi-lateral trade practice around the world. The presentation was warmly welcomed by the IBMP students with lots of curiosity and heart-felt questions about global trade.
Mrs. Robson, former Chair and CEO of the Canadian Transport Agency, a long term senior government official offered a presentation about CILTNA (Chartered Institute of Logistics and Transport, North America) for her royal charter history, student benefits and industry connection. CILTNA is an educational partner of IBMP BCIT. All IBMP graduates met the academic requirements for the designation of MILT (Member of CILT). Students are amazed by the long history of CILT and its rich connection to the senior level industry leaders. Many students signed up to be the Student Member of CILTNA. This is a benefit provided by CILTNA for free, so that students can utilize the abundant resources at the CILT industry library.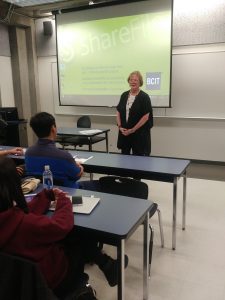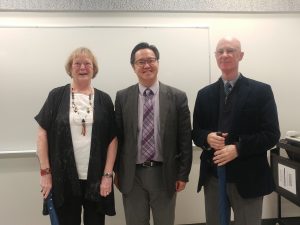 It was an informative and inquisitive presentation and exchange. I want to thank my friends Colin and Marian to volunteer their time to enlighten the next generation of logisticians and globe-trotters. I look forward to having them at many more industry events in future.
Feds Launch Infrastructure Statistics Hub Program
DCN News Services November 2, 2018
OTTAWA — The federal government has announced the launch of the Infrastructure Statistics Hub, described as an interactive tool that allows users to view data on the investment, stock and contribution of infrastructure to the Canadian economy from the recently launched Infrastructure Economic Account.
It was developed by Statistics Canada with the support of Infrastructure Canada and launched in September 2018 as part of a commitment made in Budget 2017 to support a more evidence- and results-based approach to public infrastructure policies, programs and investment decisions, said an Oct. 29 statement.
The release said the program includes data linkages between infrastructure investment, value added, number of jobs and other variables for both the public and private sectors. Information for the period 2009 to 2017 can be viewed on a map, table and graph and is presented for three main subject areas: investment, stock and economic contribution.
"The government is committed to an evidence-based approach to decision-making and new approaches to measure the impact of infrastructure investment," said Minister of Infrastructure and Communities Francois-Philippe Champagne in the statement.