Welcome to the Pacific Chapter
Pacific Chapter April 15 Spring Luncheon Cancelled
Due to COVID-19 and in an effort to keep everyone safe, the Pacific Chapter has cancelled its Spring Luncheon on April 15th.
Pacific Chapter Fall Reception
On October 23 more than 50 Pacific chapter members and guests enjoyed a presentation by Gerry Bruno, Vice President, Federal Government Affairs, Vancouver  Airport Authority. At a reception At the Terminal Club, Gerry talked about the bi-national coalition which is working on the future of the Canada/US border and how to make it secure,while ensuring that it is efficient for passengers and cargo…the  audience was fascinated to hear about drone technology, advances in facial recognition and seamless movement through airports. Several students from Capilano U, BCIT, and UBC were sponsored to attend by generous members.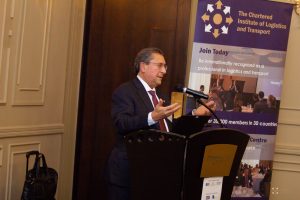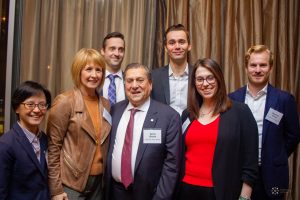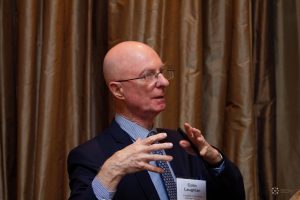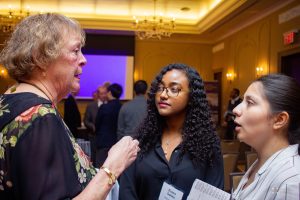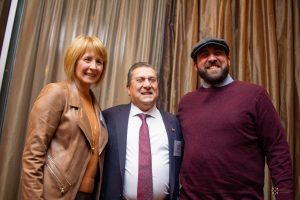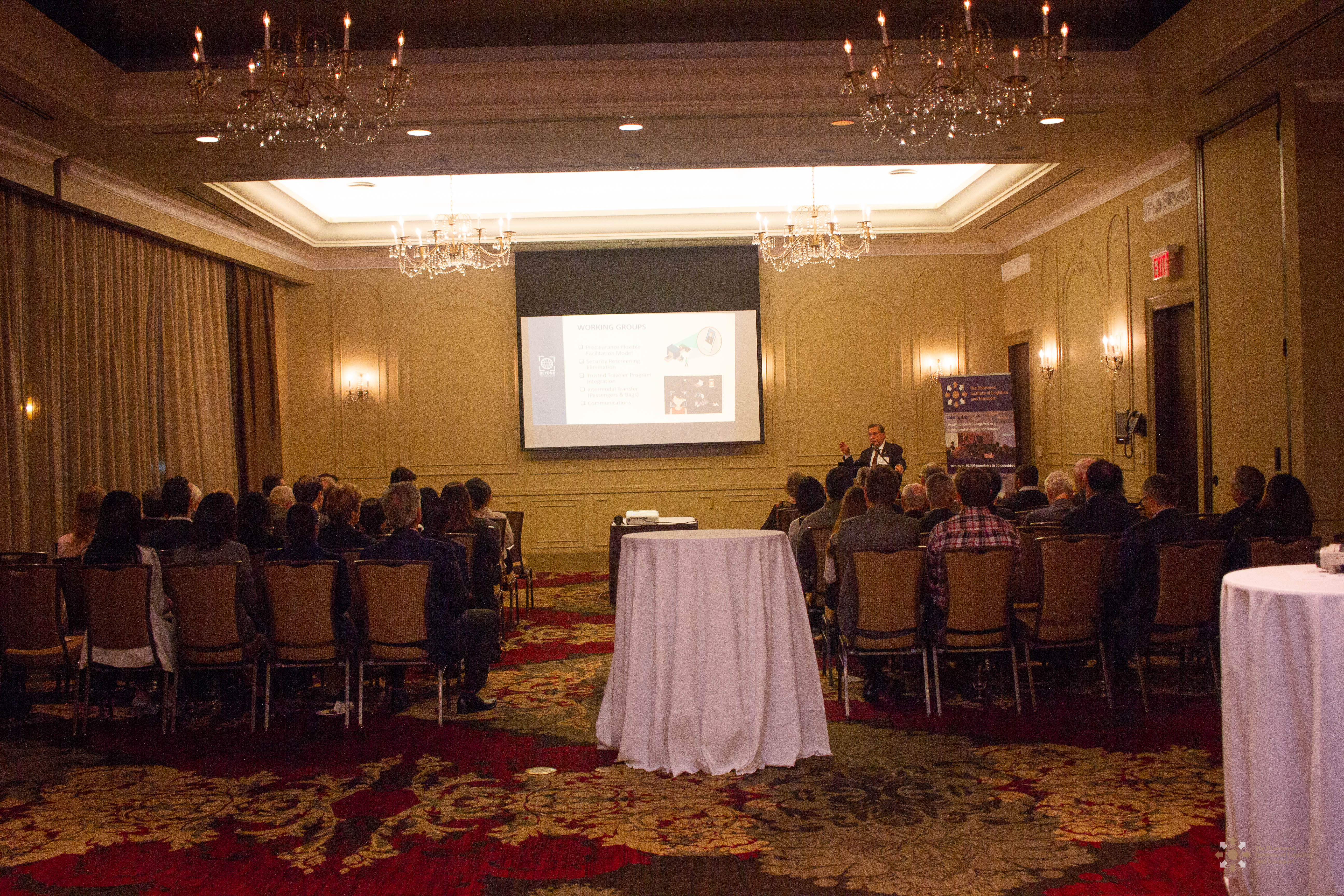 Presentation from the International Convention 2019 in Manchester, UK
BCIT Students from the Visited the Aviation Campus to Hear Presentations and Tour the Campus
On September 28, BCIT students from the Burnaby campus visited the Aviation campus to hear presentations and tour the campus. The students were from the International Business Management Program and the Airline Operations Program. Three members of the Pacific Chapter Executive were the speakers. Colin Laughlin who spoke about International Trade Technologies, Marian Robson, who talked about the Canadian Transportation Agency and its role in aviation, and Martin Crilly, who gave a pitch to encourage the students to sign up for membership in CILTNA. Jackie Li, another member of the Executive organized the event and acted as MC. Cheryl Cahill, and Airline Ops Instructor was the host.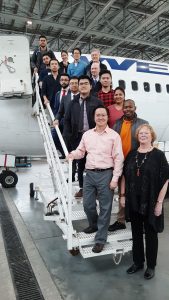 CILTNA at Cargo Logistics Canada Trade Show and Conference 2019
Marian Robson, Chair, and Wafaa Barakat, Executive Committee member, at the CILTNA (Pacific Chapter) booth at Cargo Logistics Canada Trade Show and Conference February 6-7, 2019 in Vancouver, BC.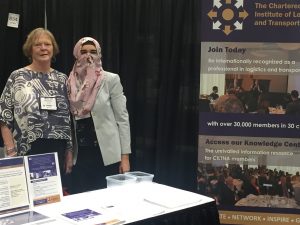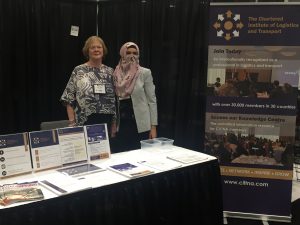 Visitors learned about the benefits of a CILTNA membership through literature provided at the booth along with chats with CILTNA members and student volunteers from Capilano University and the British Columbia Institute of Technology. Two draws were made for prizes donated by the Port of Vancouver.
CILTNA Conference Session: What it takes to be Big Ship Ready
Interest was high for the CILTNA Pacific Chapter's session: What it takes to be Big Ship Ready, at the Cargo Logistics Conference at the Vancouver Convention Centre February 7, 2019. A four-person panel, moderated by Session Chair Robert Lewis-Manning, addressed a sold-out room on the issues facing the cargo transportation chain in preparation for Ultra Large Container Ships arriving at Canada's sea ports. Among challenges facing port terminals, rail and truck stakeholders, and inland destinations were common themes of expansion: terminal ship berths and container yards; increased rail and trucking capacity; increased labour; and information technology solutions. Tony Boemi, Vice President, Growth and Development at the Port of Montreal, said the port was now focused on developing artificial intelligence to predict port activity. Jordan Kajfasz, Assistant Vice President of International Intermodal and Automotive at CP Rail, identified the need to have sufficient land reserved at inland destinations to avoid failure in the supply chain. Tabare Dominguez, Commercial Director for DP World's ocean terminals in British Columbia described expansion plans at ports in Vancouver and Prince Rupert.  Jude Correa, Vice President, Risk and Insurance, Seaspan Ship Management Ltd., Jude Correa, Vice President, Risk and Insurance, Seaspan Ship Management Ltd., provided the audience with a detailed examination of the engineering and design changes that have taken place in recent years to develop the new Ultra Large Container Ships, some of which carry more than 22,000 TEU (twenty-foot equivalent units).
CILTNA (Pacific Chapter) member, Harbour Link Container Services Inc., donated a grand prize for a draw at the end of the panel session: a sight seeing airplane flight over Vancouver's port facilities on the Pacific Coast and the Burrard Inlet waterway.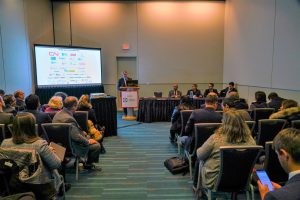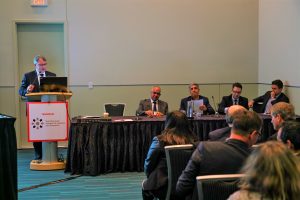 Photos courtesy of Cargo Logistics Canada
Date
Time
Event
Jun 17, 2020
12:00 pm EDT
PRESENTATION AVAILABLE - June 17, 2020 Webinar hosted by the Chartered Institute Logistics and Transport North America (CILTNA)
Nov 4, 2019
11:30 am EST - 8:00 pm EST
PRESENTATIONS AVAILABLE - Fall Outlook Conference and Annual Dinner on Monday, November 4, 2019.
Sheraton Ottawa Hotel, Ottawa Ontario
Oct 23, 2019
5:00 pm PDT - 7:00 pm PDT
The Pacific Chapter is pleased to announce its Fall Reception/Presentation
Terminal City Club, Vancouver British Columbia
Sep 10, 2019
4:30 pm EDT - 6:30 pm EDT
Ottawa Chapter presents: Cocktails with CILTNA
Queen Street Fare, Ottawa Ontario
May 29, 2019
All Day
Pacific Chapter and the CTRF - "The Asia Pacific Corridors: Challenges and Future Directions"
Pinnacle Harbourfront Hotel, Vancouver British Columbia
May 6, 2019
7:15 am EDT - 4:00 pm EDT
PRESENTATIONS AVAILABLE: Annual Spring Outlook Conference
Apr 25, 2019
6:00 pm EDT - 8:30 pm EDT
CITT Social Networking Event
Eagle Creek at Burnaby Mountain Golf Course, Burnaby British Columbia
Feb 7, 2019
8:30 am PST - 9:45 am PST
Cargo Logistics Canada & Pacific Chapter of CILTNA - Expo + Conference February 7th, 2019, 8:30-9:45am
Vancouver Convention Center West, Vancouver British Columbia
Dec 6, 2018
11:30 am PST - 1:30 pm PST
Pacific Chapter Winter Luncheon
KPMG, Sea to Sky Rooms, 11th Floor, Vancouver British Columbia
Oct 18, 2018
5:00 pm PDT - 7:00 pm PDT
CILTNA Pacific Chapter: Networking and Learning
Terminal City Club, Vancouver British Columbia
Board of Directors of CILTNA Pacific Region
International recognition of designations: MILT, CMILT, FCILT
Periodic forums and Conferences on transportation issues
National and international network of transportation professionals
Monthly luncheon meetings
Transportation education
CSL gold medal for student achievement
Becoming a Member of CILTNA
Membership in CILT is by designation including Student, Associate, Member, and Fellow on the basis of education, experience in transportation and/or contribution to the industry or CIT.
For more information on CILTNA, contact head office at: admin@ciltna.com