Date/Time
Date - Sep 15, 2022
12:00 pm EDT - 1:00 pm EDT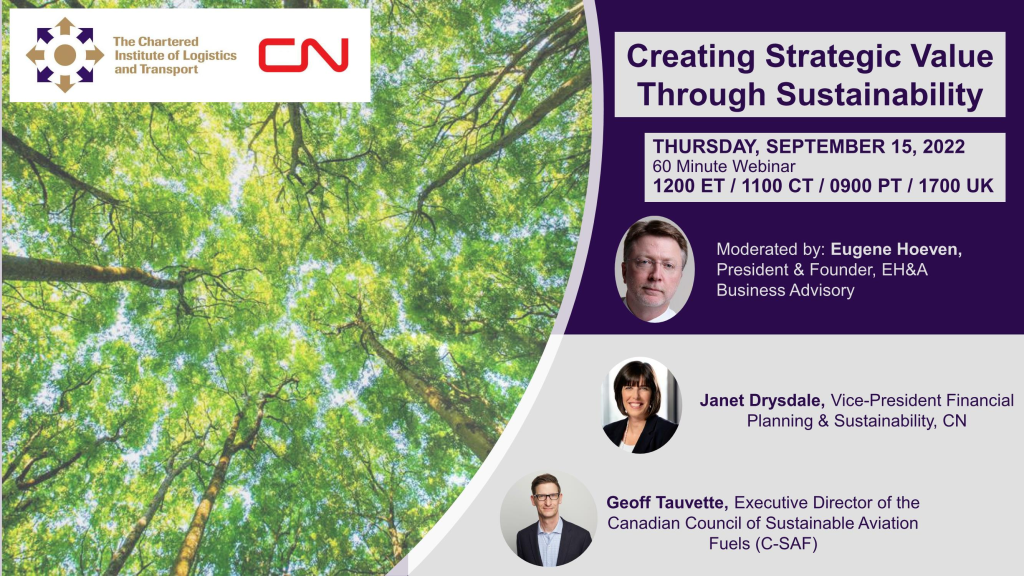 Please ensure you use the link below to access the webinar today:
https://us02web.zoom.us/j/86312734614?pwd=WkpCR2creXZnYm9qeFV0Y0g2YXQ5dz09
Passcode: 622216
Please join us on Thursday, September 15 at 1200 ET/1100 CT/0900 PT/1700 UK for a webinar hosted by the Chartered Institute Logistics and Transport North America (CILTNA).
Topic: "Creating Strategic Value Through Sustainability"
Summary: Environmental, Social and Governance (ESG) issues can carry significant reputational and operational risks to our supply chains. Climate change, the pandemic, cyber attacks, new regulations, societal shifts and geopolitical conflict in recent times have all conspired to challenge the sustainability of our supply chains. Our awareness and mitigation of the risks can not only improve the resilience of our transport and logistics systems, but also create new value for stakeholders.
Moderated by: Eugene Hoeven, President & Founder, EH&A Business Advisory.
Guest Speakers: Janet Drysdale, Vice-President Financial Planning & Sustainability, CN and Geoffrey Tauvette, Executive Director of the Canadian Council for Sustainable Aviation Fuels (C-SAF).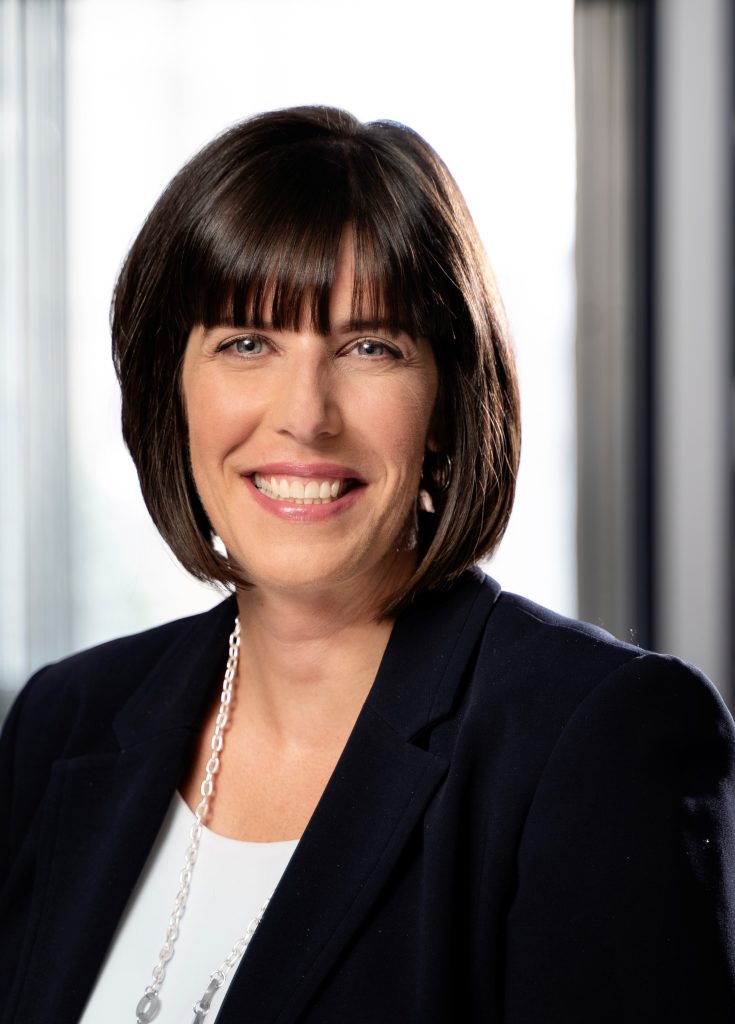 Janet Drysdale, Vice-President Financial Planning & Sustainability, CN
Janet Drysdale is a seasoned and versatile executive with over twenty-five years of cross-functional leadership in the transportation industry.
Ms. Drysdale was appointed Vice-President Financial Planning & Sustainability in June 2022. Prior appointments include Vice-President Sustainability, Vice-President Financial Planning, Vice-President Corporate Development, and Vice-President Investor Relations.
Ms. Drysdale oversees all financial planning and analysis activities, including CN's operating and capital budgets, revenue planning and forecasting, profitability analysis, and costing and economic regulation. Ms. Drysdale also continues to drive CN's integrated sustainability strategy, including overseeing the Company's ESG disclosures, Climate Action Plan, and related programs and initiatives.
Ms. Drysdale has long been an advocate for the rail industry and North America's critical supply chains, increasing the representation of women in rail, and the transition to a lower carbon economy. She has regularly presented to various levels of government, Chambers of Commerce and Boards of Trade, and has guest lectured at McGill University and the University of Toronto. Additionally, Ms. Drysdale has an extensive track record of engaging with the global investment community and is proud to have been recognized as the Best Investor Relations Officer amongst all publicly traded large cap Canadian companies.
In 2020, Ms. Drysdale was recognized by WXN as one of Canada's Top 100 Most Powerful Women in the executive leadership category, and by Railway Age for her leadership, collaboration, and innovation.
Ms. Drysdale is an independent director of Rumo S.A., Brazil's largest freight railway.
Ms. Drysdale holds an Honours Bachelor of Science degree from Queen's University and an MBA from McGill University. In 2021, Ms. Drysdale completed the Global Competent Boards ESG program and certification (GCB.D).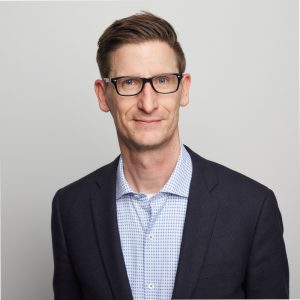 Geoffrey Tauvette, P. Eng, Executive Director of the Canadian Council for Sustainable Aviation Fuels (C-SAF)
Geoff is a commercial aviation and engineering professional at the forefront of airline sustainability with more than 25 years of experience integrating aviation fuel procurement, environment, and climate risk management, giving him a unique perspective on creating a sustainable aviation fuels market in Canada to support decarbonizing the aviation industry.
Geoff holds a bachelor and master's degree in civil engineering from the Universities of Ottawa and McGill and is a fellow of the Alberta Energy Futures Lab, a sustainability-driven, innovation-focused initiative whose vision is to accelerate the clean transition of Alberta's energy system.
For questions please contact us at: knowledge@ciltna.com.
Map Unavailable
Bookings
Bookings are closed for this event.