Map Unavailable
Date/Time
Date(s) - 23 September 2020
12:00 pm - 1:00 pm
Categories No Categories
Please join us on September 23, 2020 at 9 AM PT|10 AM MT|12 PM ET for our upcoming webinar, COVID: The New Different with guest speaker, Anne Waldes, President, Trade Link International Ltd.
Has your supply chain been disrupted by COVID?
Has your business been able to pivot to maximize your potential?
Have you looked at modifying your supply chain for the "new different"?
Is your business prepared for the second wave?
What does the global economy look like moving forward?
Can you source new markets for your services or products?
About Anne Waldes:
Anne Waldes brings more than 35 years progressive management experience in international logistics and global freight transportation and is at the forefront of developing innovative supply chain solutions for clients with the most complex logistics challenges https://catalunyafarm.com/comprar-cialis-generic-online/.
In her current role as President and CEO of Trade Link International Ltd., which she founded in 1993, Anne creates bottom line impact for global clients in diverse sectors by optimizing entire supply chains, including elements of logistics management, inventory control, product sequencing, overseas site selection, multimodal transportation and international trade-related procedures.
Now in its 27th year in business, Anne has spearheaded the Companies growth from boutique service provider to first choice international logistics partner for leading Fortune 500 companies and international brands in Automotive, Pharmaceutical & Healthcare, Industrial and Manufacturing sectors.
Prior to founding Trade Link, Anne held senior leadership roles with international transportation and steamship lines.
Anne is currently Board Chair of Hamilton Oshawa Port Authority (HOPA); is a Director and past President of the Hong Kong Canadian Business Association; a board member of Chartered Institute of Logistics and Transportation and regular invited guest speaker on logistics and supply chain themes at transportation conferences and events.
A proven dynamic leader with natural strategic instincts, Anne is passionate about logistics transformation approaches that achieve both short-term impact and long-term sustainability.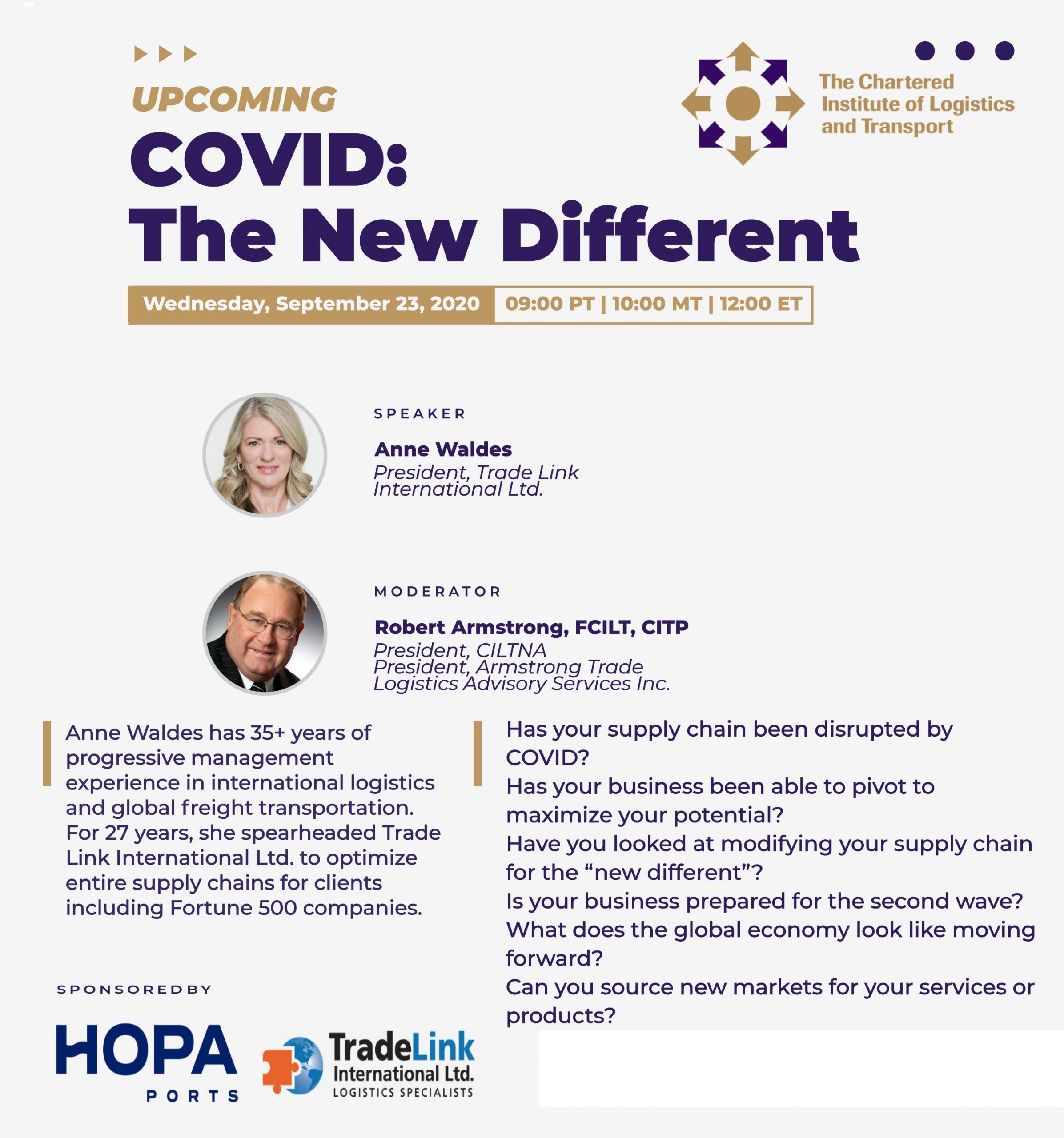 Bookings
Bookings are closed for this event.