Date/Time
Date(s) - 23 October 2019
5:00 pm - 7:00 pm
Location
Terminal City Club
Categories No Categories
The Pacific Chapter would like to invite you to a Reception/Presentation on Wednesday, October 23 from 5:00 – 7:00 pm at the Terminal City Club featuring Gerry Bruno, Vice President, Federal Government Affairs, YVR.
Theme: "Beyond Preclearance: A New Vision for a Secure and Efficient Border"
On behalf of the Pacific Chapter, we invite you to attend our upcoming reception (with sit down presentation). I know you will enjoy hearing from Gerry, and you will, no doubt, become avid supporters of the Beyond Preclearance Initiative in the future.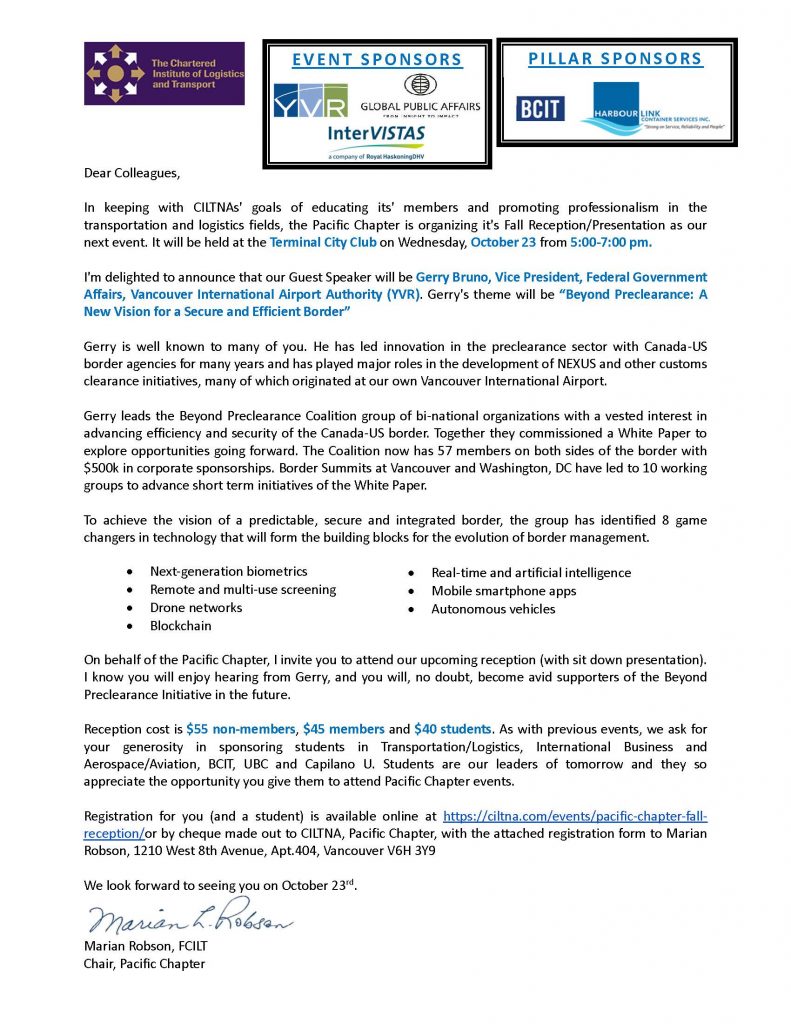 Registration Cost:
Non-Member – $55
Member – $45
Students – $40
*You can also pay by cheque made out to CILTNA, Pacific Chapter and mailed with registration form to: Marian Robson, 1210 West 8th Avenue, Apt. 404, Vancouver, BC V6H 3Y9*

Click here for printable registration form.

Also, Save the Date: Luncheon on Friday, December 6 from 12:00 – 2:00 pm at the Terminal City Club featuring Ty Speer, President & CEO, Tourism Vancouver.
Theme: "The Vital Role of Transportation Partners in the Tourism Industry"
Bookings
Bookings are closed for this event.