CILTNA's Pacific chapter held its first in-person event since the pandemic began in the evening of 28 November 2022.  Some 70 students, educators and industry professionals met on the theme Transport, Mobility, Logistics, Supply Chain: Developing Talent for Tomorrow's World.  The event was generously sponsored by SULMONA Holdings Limited (SHL).
Hiring Talent to Run A Railroad
After a networking reception, Mr. Chad Rolstad, VP Human Resources and Chief Culture Officer of Canadian Pacific Railway spoke. He is a fifth-generation railroader who has worked 12 years for BNSF and 6 for CP.
Mr. Rolstad outlined CP's extraordinary effort in 2022, in a very competitive labour market, to hire the talent to run the railway. Highlights include:
CP has attracted 97,000 applicants to date using mainly social media, notably Facebook, and through 65 network-wide hiring fairs;
after shortlisting, interviews and checks, 3,064 people have been hired to date, 85% for union jobs;
intensive 6- to 7- month paid training gives new front-line engineering-mechanical-operations workers the right knowledge and skills to work safely;
housing can be an issue; in Revelstoke BC, CP is building 48 fully furnished employee homes;
CP considers immigration key to labour supply; and works with government on employer-sponsored work permits and temporary foreign worker programs.
Mr. Rolstad also spoke to CP's current acquisition of Kansas City Southern railroad, noting:
public hearings by the US Surface Transportation Board were held in late September 2022;
STB approval for CP control is expected Q1 of 2023, then CP would acquire voting rights and full control of KCS;
a future CPKC network will have vast reach through Canada, US and Mexico, bypassing congested Chicago, accessing multiple ports, and creating new single-line routes.
Gordon Payne Achievement Award at BCIT
CILTNA's Pacific Chapter then announced the inaugural Gordon Payne Achievement Award.  Gordon, who passed away in 2021, was a Chapter member and a legend of the Vancouver waterfront. He rounded out his career as founder of Harbour Link Container Services Inc. The Chapter decided to honour his memory with the award at the BC Institute of Technology. Working with the BCIT Foundation, the Chapter exceeded its fundraising target to establish a permanent endowment.
A $1,000 cheque goes annually to an outstanding student entering the second year of the International Business Transportation management Program at BCIT.  The first recipient, Hai Nhi Ngo, is an international student from Vietnam.
The Dr. Ken Denike Award In Transportation Studies at University of BC
Chapter member Joe Sulmona first paid tribute to the late Dr. Mike Tretheway, an intellectual giant and friend of many in the audience.  Members of Dr. Tretheway's family were present.
Dr. Sulmona then announced a very generous founding contribution by SHL, his family's business, to endow The Dr. Ken Denike Award In Transportation Studies to fund an annual award towards a UBC undergraduate's tuition fees. In addition, SHL will match contributions from new supporters to a maximum figure.  Please find details of this opportunity elsewhere in this newsletter.
**
Generously Endowed: Dr. Ken Denike Award in Transportation Studies at UBC
At the CILTNA Pacific Chapter meeting in Vancouver on 28 November 2022, Joe Sulmona, Chartered Member, announced that his family business, SULMONA Holdings Ltd. (SHL) has permanently endowed the Dr. Ken Denike Award in Transportation Studies at the University of British Columbia.
The Award will be granted each year to deserving undergraduates who demonstrate interest and capability in the public or private aspects of mobility for both movement of people and goods, and at all scales from micro-active, to urban, regional, national, and international cross-border networks. Students from a variety of UBC undergraduate schools may apply that encourages an interdisciplinary approach to student achievement.
Dr. Sulmona further announced that in addition to its $80,000 contribution, SHL will match new Award supporters' contributions on a dollar-for-dollar basis up to another $20,000. SHL's contribution is nearly sufficient to grant an Award for an entire year's undergraduate tuition, and more can be done.
As this UBC award advances CILTNA objectives to encourage new professionals to join our industry, please consider a contribution at this link (https://give.ubc.ca/dr-ken-denike-award). If you require further information, please contact Daniel Galpin (He, Him, His),  UBC Development Office, Senior Director, Awards, Phone 604 822 3846, Email daniel.galpin@ubc.ca
* * *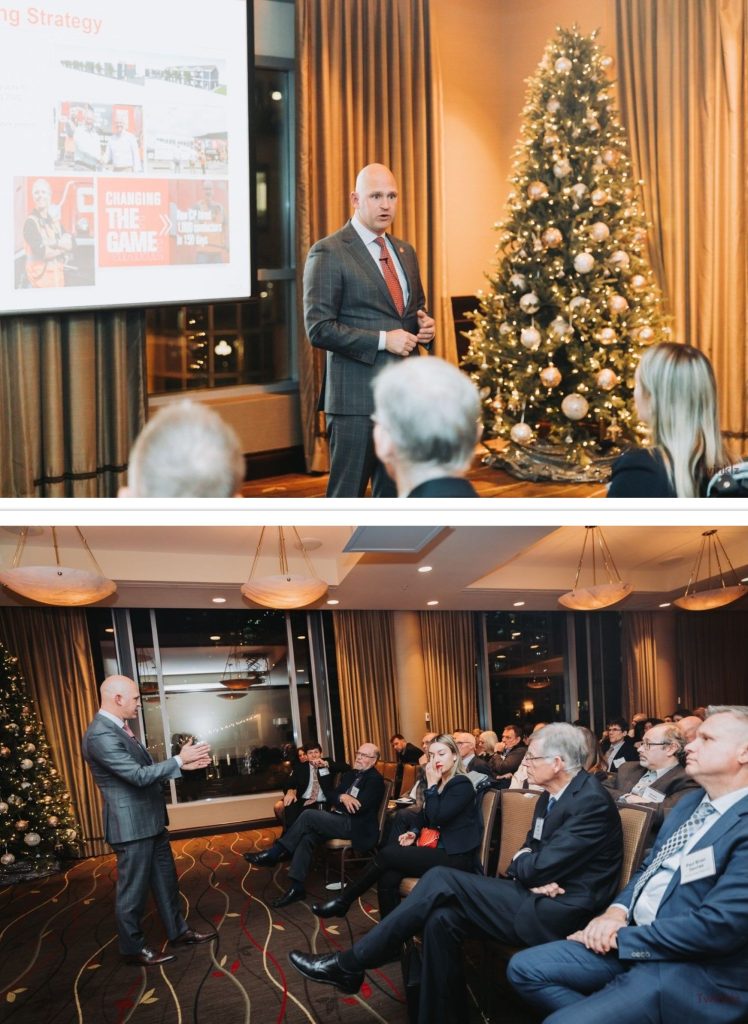 Mr. Chad Rolstad of Canadian Pacific Railway addresses CILTNA Pacific chapter 28 Nov. 2022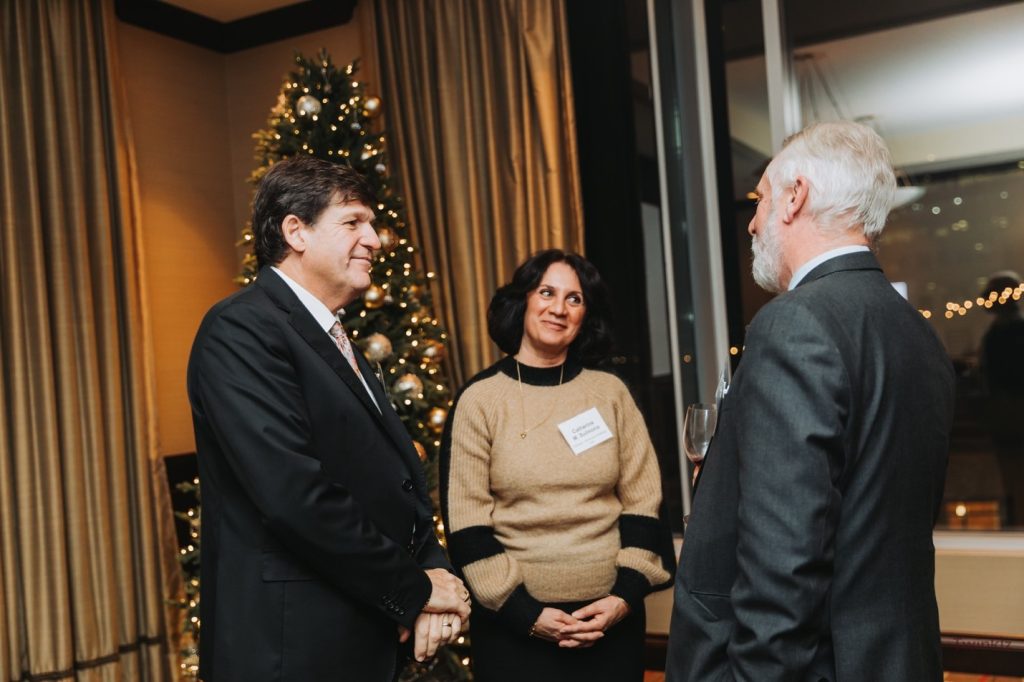 From L to R:  Joe Sulmona of SHL Holdings (the meeting sponsor and benefactor endowing the Dr. Ken Denike Award in Transportation Studies at UBC); his spouse Cathy; and Mr. John Dymond, former BCIT faculty member.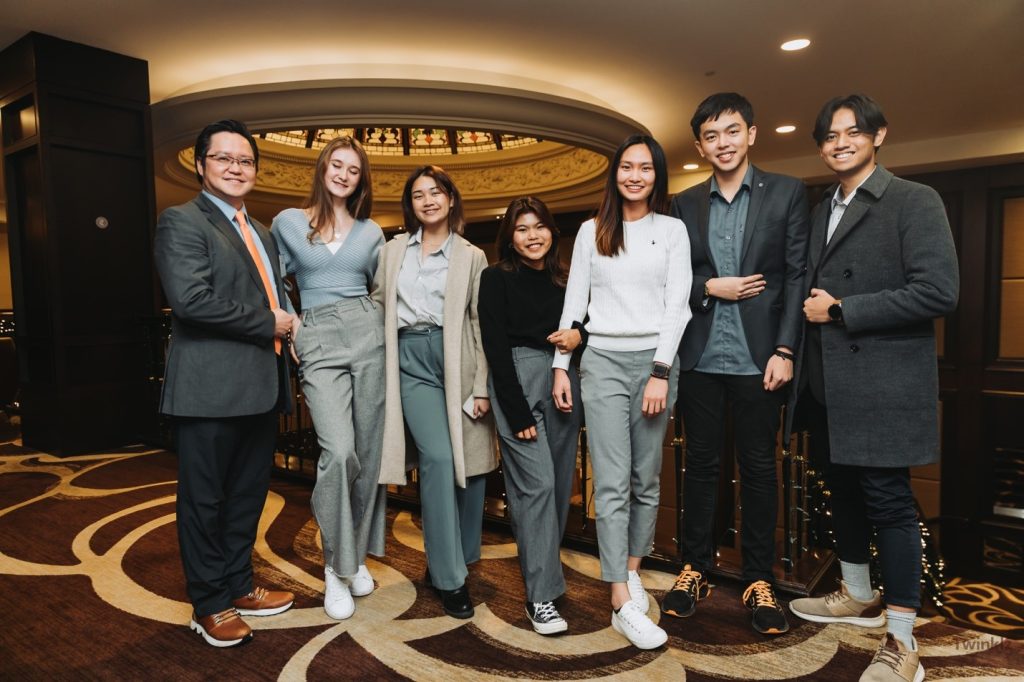 Mr Jackie Li (left), BC Institute of Technology faculty member, with BCIT students attending the CILTNA Pacific meeting 28 November 2022 on Developing Talent for Tomorrow's World, at which the recipient of the Gordon Payne Achievement Award was announced.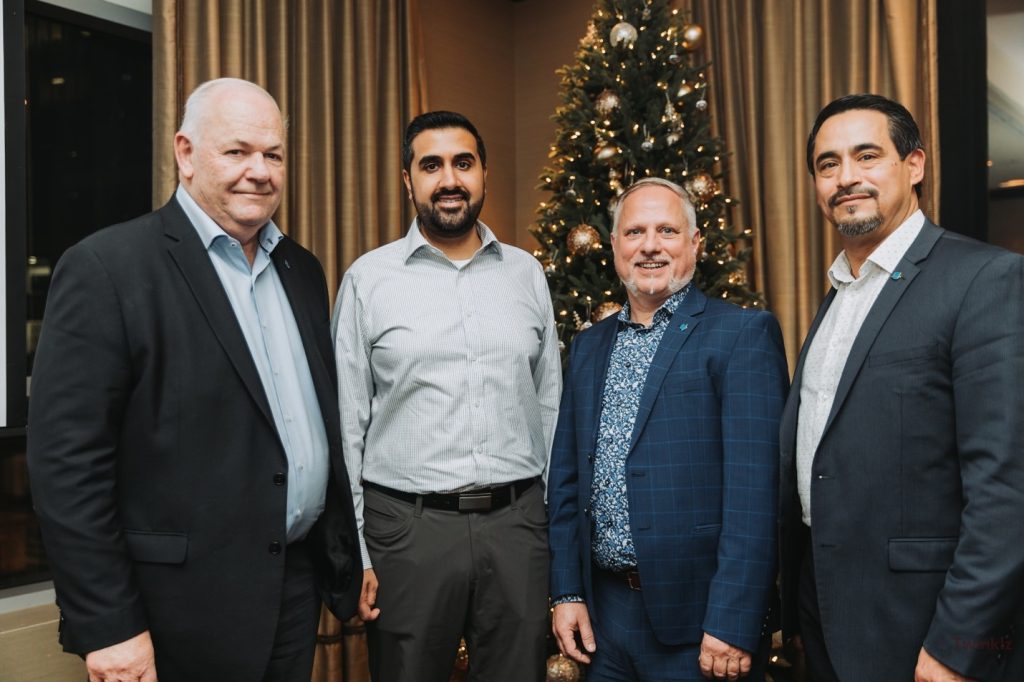 L to R: John Bourbonniere, Executive Vice President, Harbour Link Container Services Inc. (HLCSI); Ajay Hayer, Employee Relations Manager (HLCSI), David Payne, President (HLCSI) and Bill Wehnert, VP Tidewater Container Services Inc. an HLCSI Company.